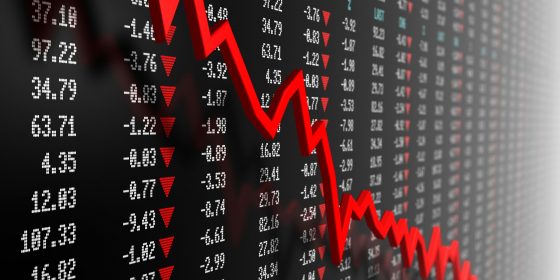 A potential catastrophe could occur when the current economic bubble bursts and Peter Schiff has been warning of this for a while now. The signs of economic distress are finally showing up as global markets tumbled Tuesday with European stocks touching a two-year low while United States equity futures are deep in the red.
Stocks took a nosedive on investors fears of political antics such as the trade war and rising interest rates.
Before the U.S. market opens several major companies will report results, including Caterpillar (CAT), McDonald's (MCD), Lockheed Martin (LMT), United Technologies (UTX), 3M (MMM), Verizon (VZ), and Harley-Davidson (HOG). Results out of Caterpillar will be most closely watched with investors looking for any signs of inflation pressures, trade tensions, or a slowdown in economic growth out of the industrial giant, which is often seen as a bellwether for the global economy. –Yahoo Finance
In the past eight days, $4 trillion has bee wiped off from what had been record high values. According to NBC News,  Europe's main markets started down as much as 3 percent and shares tumbled in Asia after a wild day for U.S. markets. Two days of steep losses have erased the U.S. market's gains from the start of this year, ending a spate of record-setting calm for stocks.  The Dow Jones industrial average closed down 1,175 points on Monday, as the market bet on more interest rate hikes, the same day that a new Federal Reserve chairman was sworn in.
On Tuesday, Taiwan's main index lost 5.0 percent, its biggest since in 2011 and Hong Kong's Hang Seng Index dropped 4.2 percent. Japan's Nikkei dived 4.7 percent, its worst fall since November 2016, to four-month lows. Australia's benchmark S&P ASX 200 slid 3.4 percent, South Korea's Kospi declined 2.4 percent and the Shanghai Composite index was off 2.2 percent. –NBC News
"It is a source of some concern that asset valuations are so high," outgoing Federal Reserve chair Janet Yellen told CBS News, highlighting price-earnings ratios in equities.  Yellen appeared to be sounding the alarm on stock prices urging caution. But most economists have foreseen this kind of a market drop.
"Everybody knew this was coming — stocks are close to record valuations and it was a matter of when it was going to happen, not if," said Dan North, chief economist at Euler Hermes North America. "I would expect that at this point, it's probably sentiment-driven and we'll get a rebound.
David Kelly, the chief global strategist for JPMorgan Asset Management agrees with North's assessment.  "It's like a kid at a child's party who, after an afternoon of cake and ice cream, eats one more cookie and that puts them over the edge," Kelly said.
Last week, many in the mainstream media talked about the trade war, the situation in Italy, and the tensions with Saudi Arabia over the murdered journalist, linking those situations to a sliding market. But Peter Schiff had a different explanation, according to Seeking Alpha, and that is: we're in a bear market.
"The market probably would have fallen even if none of those things happened. You know, when you're in a bear market, and I think there's a very good chance we are in a bear market, you don't need an excuse for the market to go down. The market just goes down. It's just that when people don't know they're in a bear market, they're always looking for excuses. They can't accept reality." -Peter Schiff, Seeking Alpha
Schiff has been warning of a market collapse for quite some time, and he said it could very well be upon us.
"Now all of a sudden, finally, after all of these years, things are happening, which are screaming, 'Ah-ha! Right, I've been right.' Here this stuff is now happening, that I've been forecasting – these are the sure signs that the collapse is near. Yet, the mainstream is completely oblivious because they have no idea there's a problem. If you don't know you're in a bubble, you don't see the pins. I've been calling this bubble for a long time and finally, it's pin, pin, pin, right? And nobody sees it." – Peter Schiff, Seeking Alpha