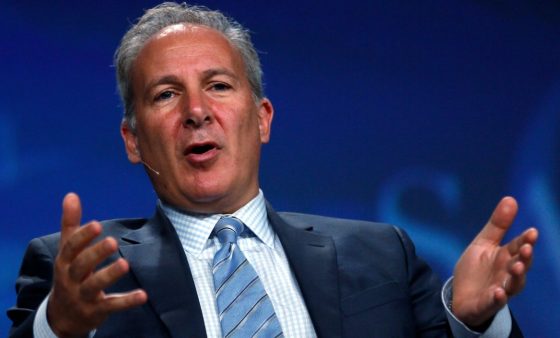 In a speech at the Cambridge House Vancouver Resource Investment Conference back on January 19, 2020, Peter Schiff said it was "game over" for the Federal Reserve.  The central bank is destroying itself with the incessant money printing, which is a wealth transfer from the bottom to the very top.
Have many people ever stopped to ponder why they have to pay taxes if the Federal Reserve can print as much money as it wants? Perhaps it's time we start asking the hard questions of the banking elitists and the ruling class.
Schiff has been accurate in his predictions about the central bank.
The central bank was able to raise rates a few times in 2018 thanks to the election of Donald Trump and the optimism about the economy he generated, along with tax cuts and government spending increases that gave the economy a boost of a stimulus, according to a report by SchiffGold.  But just before the Fed raised rates for the final time in December 2018, Schiff appeared on Fox Business and predicted it would be the last hike. During that same interview, Schiff also predicted that the next move for the Fed would be rate cuts and a return to quantitative easing.
Sure enough, late in 2019, the Fed announced a bond-buying program to increase its balance sheet. Powell and the powers that shouldn't be refused to call it QE, but that's exactly what it was:
"The reason the Fed is back to quantitative easing, the reason the Fed is cutting interest rates, is because they helped create an economy that was completely addicted to cheap money.

Once the dollar starts to fall on the acceptance that rates are never going to normalize, that's when you have a crisis. Because inflation is going to rear its head in a very, very ugly way."
And then we had the coronavirus lockdowns to cover for the Federal Reserve's failures. People were forced to close businesses and lose their livelihoods while the central banks printed money to try to keep up with the destruction they caused. The Federal Reserve has put the policies that were pushing us toward a complete financial crisis on hyperdrive. We now have interest rates at zero again. The Fed was able to get away with this in 2008, but too many know now what the central bank is doing. It's trying, like the government and the elitists everywhere, to hang onto power with everything they've got.
The Fed is repeating their mistakes on an even grander scale and are doing it in an even weaker economy because we never really recovered from the recession of 2008.
"We papered that over with a bigger bubble. So, instead of correcting the imbalances that existed, we made the imbalances bigger. We went even deeper into debt. And so now that this even bigger bubble has popped, the Fed is back to the drawing board doing exactly what it did before, only printing a lot more money, running much bigger deficits, and so this time there is no way to kick this can. We are now going to experience everything that I assumed we were going to experience back then, only much worse. Only a much deeper collapse. Even more inflation than we had then."
The road has ended for the central bank. They cannot kick the can further. Expect in the next few years, or sooner, the introduction of the one wold global currency, as laid out by Agenda 21. Was this "end game" for the Fed all a part of the plan? It's hard to say, but the timing is uncanny…