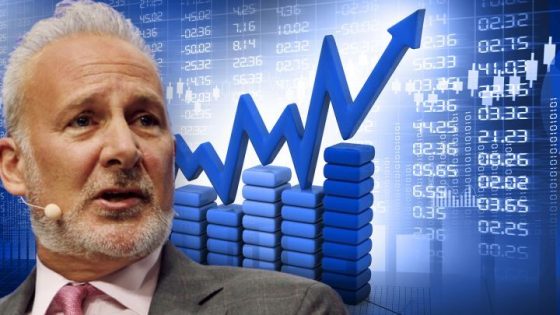 According to Peter Schiff, chief executive officer and president of the Westport, Connecticut-based Euro Pacific Capital, an inflation tsunami will slam into the United States. The Federal Reserve's easy money policies are going to bring the inflation boogeyman back to America with a vengeance.
Costs are already rising and wages have not kept up with the spending of the average American. But it will get much worse according to Schiff's predictions. "The reason the Fed had to start cutting rates was because last year the air really started to come out of that bubble," Schiff told FOX Business' Liz Claman on Wednesday. "So the Fed had to blow some air back in so this is not a strong economy, it's never been a strong economy. The whole thing is an illusion."
Schiff, who accurately predicted the subprime mortgage crisis of a decade ago, which lead to the Great Recession, has been warning of glaring problems in the U.S. economy ever since. "We are going to be hit with a tsunami of inflation in this country," Schiff said, adding that he sees the U.S. spiraling into an "inflationary depression."
Peter Schiff: 'We Will Have Inflation And Recession At The Same Time'
Data released Wednesday morning showed consumer prices rose 2.3 percent year-over-year in November. The Fed's preferred inflation measure, core personal consumption expenditures, grew at an annual rate of 1.9 percent in October, just below its 2 percent target. A new reading is scheduled to be released on Dec. 20. Currently, inflation remains muted, a concern that Fed Chairman Jerome Powell reiterated on Wednesday. -FOX Business
And yet, Americans have noticed their bills are increasing at a quicker rate than their paychecks.
Costs Are Spiraling Out of Control
Schiff called it "ironic" that Powell began Wednesday's press conference praising former Fed Chairman Paul Volcker who died earlier this week, saying the current Fed chairman would "resurrect the high inflation that Paul Volcker buried."  Volcker, who served under Presidents Carter and Reagan, "broke the back" of double-digit inflation that ran rampant in the U.S. during the late 1970s and early 1980s by hiking the fed funds rate to a record-high 20 percent.
What's ironic is that we are somehow expected to believe that the skyrocketing costs we all paying for things is not related to inflation and the Fed's money-printing scheme. "In the past, you wouldn't want to let the inflation genie get out of the bottle, but that is what Powell is saying, we're going to let it out of the bottle," Schiff said. "Well, you know what, once it's out of the bottle there is no way to put it back in." And it's already out.
Schiff has also been sounding the alarm about the debt load being carried by both the government, the public, and corporations.
Peter Schiff: "The Real National Emergency Isn't At The Border. It's The National Debt!"
Peter Schiff: "We're Not Borrowing Ourselves Rich, We're Borrowing Ourselves BROKE!"