This report was originally published by Tyler Durden at Zero Hedge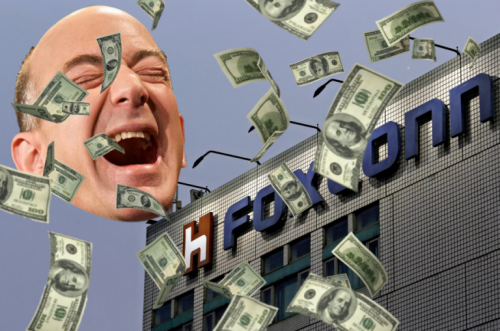 Amazon founder and CEO Jeff Bezos recently became the world's wealthiest man. While Bezos' fortune is mostly tied to Amazon's inflated stock price trading at a nosebleed price/earnings ratio of approximately 265, with a market cap around $811 billion (as of June 08), many questions remain as to just how did Bezos manage to become the world's richest man by disrupting America's retail industry?
New evidence from the New York-based China Labor Watch released a report over the weekend following a nine-month back-breaking investigation of working conditions at a manufacturing plant in the city of Hengyang operated by Foxconn Technology Group, which manufactures products for Amazon, including Amazon's Kindle, Echo smart speaker, Echo Dots, and an array of tablets.
The report offers the first-ever glimpse behind the scenes of how Bezos has become the world's wealthiest man on the backs of low-paid workers.
China Labor Watch revealed how dispatch workers made up more than 40 percent of the Hengyang Foxconn's workforce, a significant rights violation of the legally mandated 10 percent ceiling. Chinese dispatch workers, kind of like America's temporary workers, are given remarkably different working conditions between regular workers.
For instance, regular workers generally receive five days of training; dispatch workers are allegedly only given eight hours of training to assemble some of Amazon's most popular products, which is far below the legal limit of the mandated 24 hours. Dispatch workers also incur many extra expenses, such as physical examination fees, whereas regular workers do not.
When the American consumer slows its credit card purchases of Amazon products, the Hengyang Foxconn factory generally transitions into its "off season," which many dispatch workers are temporarily laid off without pay, no social insurance, nor any contributions made to their housing provident fund. According to the Interim Provisions on Labor Dispatch, dispatch workers are to be registered for social insurance and employers are to make social insurance contributions — as mentioned above, that is indeed not the case at Hengyang Foxconn.
No rules, No Problem — Amazon makes billions of dollars by not paying its fair share of wages.
The report explains how regular workers receive extra sums of money for overtime hours and their wages are well above the standard of living; however, dispatch workers earn 14.5 RMB/hour (USD 2.26) with no extra pay for overtime.
If a dispatch worker misses more than two days or is late more than twice a month — their wages are cut to 13.5 RMB/hour (USD 2.11) for the rest of the month.
Dispatch workers' paystubs affixed to the factory's wall. (Source: China Labor Watch)
While there are clear distinctions in working conditions between regular workers and dispatch workers at the factory, all workers are subject to long hours and low wages. Workers put in over 100 overtime hours during peak season, and there was an instance of workers working consecutively for 14 days.

The average wage in Hengyang is 4,491 RMB (USD 700.88), however, workers at the factory on average earned wages between 2000 – 3000 RMB (USD 312.12 – USD 468.19) during the off-season. As wages are low, workers must rely on overtime hours to earn enough to maintain a decent standard of living. In spite of that, the factory cuts the overtime hours of workers as a form of punishment for those who take leave or have unexcused absences," said China Labor Watch.
It is now starting to make sense how Amazon secretly profits at the expense of the poor working class folk.
Night shift dispatch workers arrive at the Hengyang Foxconn plant via mopeds. (Source: China Labor Watch)
Night shift dispatch workers are eating by the roadside. (Source: China Labor Watch)
China Labor Watch provides a summary of the rights violations at Hengyang Foxconn, which allows Bezos to make billions of dollars at the expense of exploiting low wages.
The investigation took place during the factory's off-season and it was discovered around 40% of the total number of workers were dispatch workers. Chinese labor law stipulates that dispatch workers must not exceed 10% of the total workforce.
Before starting work, dispatch workers need to pay 50 RMB ($7.86 USD) to cover physical examination fees. Some regular workers reported having to pay 60 RMB ($9.47 USD) for the physical examination, while others did not pay any fees.
Chinese law stipulates pre-job training to be at least 24 hours, however, dispatch workers only receive eight hours of pre-job safety training.
Many dispatch workers do not receive a copy of their labor contract.
Sick leave is unpaid for dispatch workers. Regular workers have 20% deducted from their day's wages for sick leave.
Dormitories for both regular and dispatch workers do not have emergency exits. The dormitory area for dispatch workers does not have a fire extinguisher and escape routes are not labelled. Fire drills are not performed in the dormitory area.
Workers are required to arrive to their work positions ten minutes before their shift starts and these ten minutes are uncompensated.
During each month of peak production season, workers have to put in over 100 hours of overtime. However, Chinese law stipulates monthly overtime cannot exceed 36 hours. During peak season, there was an instance of workers working 14 days continuously without a day off.
During off-season, the factory schedules dispatch workers to go on leave, resulting in these workers having no wages. Additionally, the factory management will schedule no overtime for regular workers. Due to their low wages, by not allowing workers to work overtime, it forces workers to resign of their own volition. If workers are late, have an unexcused absence, or are on sick leave, the production line leader will also reduce their number of overtime hours. Due to a low base wage, it is a punishment for workers to not be able to work overtime during off-peak season.
Workers earn an hourly wage of 14.5 RMB ($2.26 USD) regardless of whether they worked normal hours or overtime hours, which includes a 1 RMB ($0.16 USD) attendance bonus. If the worker takes more than two days off or if they are late more than twice a month, their month's wages would be calculated by a 13.5 RMB/hour ($2.11 USD) standard.
Workers do not earn enough to maintain a decent standard of living during off-season. During off season, on average, regular workers earn 2,000 RMB ($312.12 USD) a month and dispatch workers earn 2,500 RMB ($390.16 USD) a month. The average monthly wage in Hengyang in 2017 was 4,647 RMB ($725.22 USD)
Dispatch workers' dormitory bathroom. (Source: China Labor Watch)
Living conditions for Hengyang Foxconn dispatch workers. (Source: China Labor Watch)
Immediately after China Labor Watch published the report on the "unethical and illegal" working conditions at Amazon's supplier factory in Hengyang, the U.S. giant went into full damage control mode — issuing a statement regretting the "issues of concern."
In its statement, Amazon said: "Amazon takes reported violations of our supplier code of conduct extremely seriously. In the case of the Foxconn Hengyang factory, Amazon completed its most recent audit in March 2018 and identified two issues of concern."
"We immediately requested a corrective action plan from Foxconn Hengyang detailing their plan to remediate the issues identified and we are conducting regular assessments to monitor for implementation and compliance with our supplier code of conduct. We are committed to ensuring these issues are resolved."
Kara Hartnett Hurst, Amazon's head of worldwide sustainability, responded to The Guardian and said, "Amazon recognizes our responsibility to ensure the well-being of factory workers manufacturing products for Amazon."
Li Qiang, executive director of China Labor Watch, wrote to Bezos last month and detailed the extensive list of rights violations.
"This violates Chinese labour law. Foxconn uses a large number of dispatch workers and violates workers' interests via these dispatch companies. This practice, in and of itself, is unethical and illegal," he wrote. "I hope that you can compel your suppliers to improve their working situations and to manufacture Amazon products under ethical conditions," Li wrote.
Li accused Bezos of enriching himself on the backs of the poor. "The factory employs dispatch workers as a means to cut manufacturing costs," he said. "Amazon is only concerned about whether or not its supplier factories are completing orders in time and is generally apathetic towards the working conditions." The result: a tragic mess where Chinese workers cannot make an honest living — where have we seen this before?…Oh yes, the American gig-economy.
"The wages at Hengyang Foxconn are not enough to sustain a livelihood and workers must put in overtime hours so that they earn a sufficient amount to have a decent standard of living. The factory even cuts the overtime hours of workers as a form of punishment," Li concluded.
While Amazon has pitched to the millennials that it cares about humanity in the modern economy, China Labor Watch exposes the giant tech company as an oppressor – denying its supplier the ability to pay their employees a living wage in a modern sweatshop – so that a few elitist Americans can buy smart speakers they cannot afford. This is not sustainable…