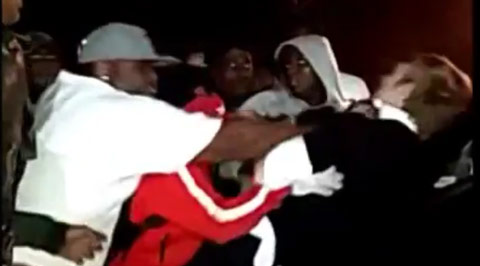 Protesters in Ferguson have continued to gather on a nightly basis in the aftermath of the Michael Brown shooting.
They claim to be assembling peacefully, but as the video below shows, when a white man was passing through town a mob surrounded him and began making threats.
The video shows the man telling his attackers that he just wants to go home.
Another man is then heard saying "I don't give a fuck what you wanna do." In the background, a third man argues, "we're standing up for what we believe."
As the victim tries to get away from the crowd he is immediately accosted by several men who hold him back while another grabs him by the neck. When he finally breaks free and walks away numerous individuals continue to pursue him.
The following video uploaded to social media shows the incident from two different angles:

(Video via Bizpac)
Twitter users voiced their opinions once the video was made public:
@Am3ricaChang3d this clip does not show how the confrontation started. They didn't have any conflict with anyone else.

— Pjcoul (@paulcoulonjr) October 25, 2014
While no video of how the incident started has been released, according to witnesses the mob was blocking the entire street.
However the incident started, unless the victim physically assaulted someone there is no legal justification for the physical attack that followed.
Some would disagree, however.
@Am3ricaChang3d no social injustice in this country started this. And white people are the ones with hate.

— Pjcoul (@paulcoulonjr) October 25, 2014
@Am3ricaChang3d they are not protesting against white people they are protesting against the system.

— Pjcoul (@paulcoulonjr) October 25, 2014
@Am3ricaChang3d the goal of protesting is to make people uncomfortable enough to change things.

— Pjcoul (@paulcoulonjr) October 25, 2014
Others noted that no matter how angry the protestors are, assault and battery are not the way to handle it:
@paulcoulonjr Do not try to rationalize violent crime. Making uncomfortable is different than "Choking" someone. #Ferguson

— michael jason henry (@Am3ricaChang3d) October 25, 2014
@paulcoulonjr @Am3ricaChang3d all I see is proof of protesters getting violent. Show me otherwise

— Phillip P (@Phillip__P) October 25, 2014