This article was originally published by Tyler Durden at Zero Hedge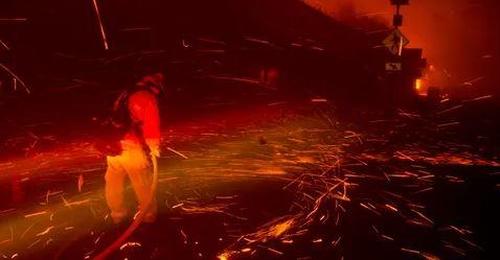 One year after the deadliest and costliest wildfire season in California's history, three wildfires have broken out in Northern California. On Friday, the most aggressive of the three fires destroyed most of the town of Paradise, a community with 27,000 residents, forcing residents to frantically flee for their lives. According to USA Today, as strong winds fanned the flames, they also hindered aircrafts' ability to drop flame retardant on the fire.
In a 24 hour period, the Camp Fire surged through the town of Paradise, located in the Sierra foothills, torching some 31 square miles, or 20,000 acres. Panicking residents dropped everything, with some abandoning cars to flee on foot as the fire blocked off escape routs. The state issued a mandatory evacuation order as the smoke from the flames darkened the skyline.
Residents described being surrounding by a "wall of fire" which left them only minutes to grab what little precious belongings they could before leaving.
"We were surrounded by fire, we were driving through fire on each side of the road," said police officer Mark Bass, who lives in Paradise and works in neighboring Chico.

Bass evacuated his family and then returned to the fire to help rescue several disabled residents, including a man trying to carry his bedridden wife to safety. "It was just a wall of fire on each side of us, and we could hardly see the road in front of us."

Sherri Pritchard said she only had time to grab a few pictures before fleeing with her family and dogs, even leaving clothes behind.

"It was crazy, because when we were sitting in traffic people were panicking," she said. "It was chaos. I couldn't believe what people were doing."
One Paradise resident who spoke with the Associated Press described the final harrowing moments before she and her husband fled their mobile home.
Shari Bernacett said her husband tried to get people to leave the Paradise mobile home park they manage. He "knocked on doors, yelled and screamed" to alert as many residents as possible, Bernacett said.

"My husband tried his best to get everybody out. The whole hill's on fire. God help us!" she said before breaking down crying. She and her husband grabbed their dog, jumped in their pickup truck and drove through flames before getting to safety, she said.
Horrifying videos circulating on social media showed cars driving through what looked like tunnels of fire…
…While others showed the flames engulfing homes with alarming speed.
Paradise is devastated, everything is destroyed." It's destroyed parts of the Sierra foothills, including the town of Paradise, officials say. The so-called Camp Fire has been fuelled by strong winds and dry forest. #paradise #wildfire #california pic.twitter.com/izfBMb0Dy4

— SKYLINE NEWS (@NewYork_SPIN) November 9, 2018
Grass and brush, severely parched from months without rain, along with the extremely dry air, helped accelerate the fire, officials said.
"Basically, we haven't had rain since last May or before that," said Butte County CalFire Chief Darren Read. "Everything is a very receptive fuel bed. It's a rapid rate of spread."
Amid the chaos, the strong winds whipped the flames into a 'firenado'.
Apocalyptic scenes show a 'firenado' swirling amid a scorched part of Butte County in California, as the Camp Fire that forced thousands to evacuate rages on. Hundreds of firefighters are battling the blaze. https://t.co/ancYvmX8BX pic.twitter.com/5R53C4RB7y

— CNN (@CNN) November 9, 2018
At one local hospital, more than 60 patients were evacuated to other facilities and some buildings caught fire and were damaged.
Some patients had to be airlifted to safety due to the gridlocked traffic. Four hospital employees who were trapped in its basement had to be rescued by CalFire.
While fires have been especially severe in recent years thanks to drought conditions that have persisted across the state, one long-time former volunteer firefighter said he hasn't seen a fire as aggressive as the Camp Fire in his 40 years of working and living in the region.
No death toll has been published yet. But several residents are still missing. And it's possible that a count of fatalities could be available soon.