This report was originally published by Tyler Durden at Zero Hedge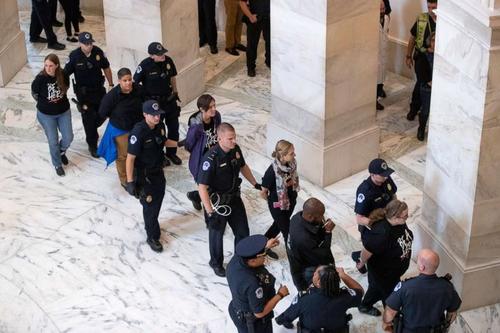 128 people were arrested at Capitol Hill on Monday during a highly organized protest against Supreme Court nominee Brett Kavanaugh, reports ABC News.
Capitol Hill police said 128 people were arrested for "unlawfully demonstrating" outside of senators' offices and in the main rotunda of the Russell Senate Building. About half as many protesters were arrested for protesting Kavanaugh on Thursday.

The protests were organized by various groups, including the Women's March, Planned Parenthood, NARAL and others who strongly oppose Kavanaugh's nomination. –ABC
Protests against Supreme Court nominee Brett Kavanaugh escalated on Monday with more than 120 people arrested on Capitol Hill. https://t.co/wx1uRiAz4n pic.twitter.com/xDBXsqKyoj

— ABC News (@ABC) September 25, 2018
The protests come just one day after a second Kavanaugh accuser emerged, claiming the Judge waved his penis in her face during a drunken Yale dormitory party. Ramirez made her claim after six days of "carefully assessing her memories and consulting with her attorney" despite having significant alcohol-induced memory gaps.
It is unclear if Monday's protest included members of SPAN, the Colorado women's rights group that Ramirez helps lead.
DEVELOPING: New Kavanaugh accuser Debbie Ramirez helps lead a left-wing "social justice" nonprofit group in Boulder, CO, that believes that "violence against women is systemic" and that "women are an oppressed group." Also believes that "heterosexism" is "an act of violence."

— Paul Sperry (@paulsperry_) September 24, 2018
Meanwhile, professors at Yale law school canceled classes Monday, as men and women clad in black staged walkouts with the message that everyone should believe women who claim to have been victims of sexual misconduct, and that Brett Kavanaugh's nomination should be stopped.
Students walking out of Yale Law School building as part of their protest demanding investigation of accusations against Kavanaugh pic.twitter.com/3gBFaRAfjK

— Rebecca Lurye (@RebeccaLurye) September 24, 2018
Emails obtained exclusively by Campus Reform show that as many as 20 Yale Law School faculty members canceled or rescheduled up to 31 classes on Monday because of the Kavanaugh hearing. 
Yale Law School spokeswoman Debra Kroszer told Campus Reform on Monday that "Yale Law School did not cancel all classes," but, she added, "many faculty members chose to reschedule or cancel their own classes today. And some held classes as usual."
"While I respect the right of the students protesting to make their voices heard, I disagree with professors' decisions to cancel classes at the request of those protesters," Emily Hall, a student at Yale Law school, told Campus Reform in a statement. "It effectively encourages students to participate in the protests and penalizes those who choose not to by disrupting the class schedule," Hall added. –Campus Reform
After repeatedly denying the accusations, Kavanaugh lashed out at them again on Monday, calling them "false," and declaring that he would not withdraw his nomination.
"I'm not going to let false accusations drive us out of this process and we're looking for a fair process where I can be heard and defend my integrity my lifelong record. My lifelong record of promoting dignity and equality for women starting with the women who knew me when I was 14 years old. I'm not going anywhere," he said in an interview with FOX News.
Protesters filled the office of Senate Judiciary Committee Chairman Chuck Grassley of Iowa on Monday, sharing their own stories of sexual assault and calling on senators to "stand with survivors."
"He raped me as he choked me," she said in a video that later circulated Twitter with thousands of retweets. "And when I heard Professor Ford say that Kavanaugh had his hand over her mouth, I believed her. You do not forget someone choking you, you do not forget someone putting their hand over their mouth and you thinking they're going to die," she said, her voice quaking.

"For God sake, for all the boys and girls who have been assaulted over the years, for God sake, when will you stand up for the American people, for democracy?" the woman said, a plea to the senators on the Judiciary Committee, as a fellow protester put a hand on her shoulder. –ABC
Happening Now: thousands in hall of congress – demand @JeffFlake vote not and #CancelKavanaugh. Women from across the country share their horror stories of sexual assault

Cc: @AdyBarkan @lsarsour @AnaMariaArchil2 @popdemoc @CPDAction @womensmarch pic.twitter.com/KY54lA3rfT

— JESUS GONZALEZ (@JesusGonzalezNY) September 24, 2018
The entire hallway is in tears. We are at a moment in history where women have to repeat their trauma to the masses to literally beg Senators to vote with moral clarity. #StopKavanaugh #BelieveSurvivors #BeAHero pic.twitter.com/Ky26a9fPTf

— Helen Brosnan (@HelenBrosnan) September 24, 2018
Women must be heard. Today I am wearing black in solidarity with Dr. Christine Blasey Ford. #BelieveSurvivors #TIMESUP #StopKavanaugh pic.twitter.com/pSZhEIr0Xe

— kerry washington (@kerrywashington) September 24, 2018
#BelieveWomen #BelieveSurvivors #metoomvmt #timesup pic.twitter.com/LUUikeZ6Xx

— Amber Tamblyn (@ambertamblyn) September 24, 2018
Meanwhile, Senator Ted Cruz of Texas and his wife were chased out of a DC restaurant by anti-Kavanaugh protesters Monday night, who followed the pair chanting "we believe survivors."
BREAKING. Activists just chased @TedCruz out of a fancy Washington DC restaurant, chanting "We Believe Survivors!"

Cruz has been friends with creep Kavanaugh for 20 years. Now Cruz is on judiciary committee hearing his testimony.

Fascists not welcome! #CancelKavanugh pic.twitter.com/7mx6Tc32za

— Smash Racism DC (@SmashRacismDC) September 25, 2018
As Infowars' Paul Joseph Watson notes, the group behind the stunt, Smash Racism DC, issued a threatening tweet afterwards:
"This is a message to Ted Cruz, Bret Kavanaugh, Donald Trump and the rest of the racist, sexist, transphobic, and homophobic right-wing scum: You are not safe. We will find you. We will expose you. We will take from you the peace you have taken from so many others."
p6. This is a message to Ted Cruz, Bret Kavanaugh, Donald Trump and the rest of the racist, sexist, transphobic, and homophobic right-wing scum: You are not safe. We will find you. We will expose you. We will take from you the peace you have taken from so many others.

— Smash Racism DC (@SmashRacismDC) September 25, 2018
If Monday's protests were a taste of what's to come, this is going to be an interesting week.