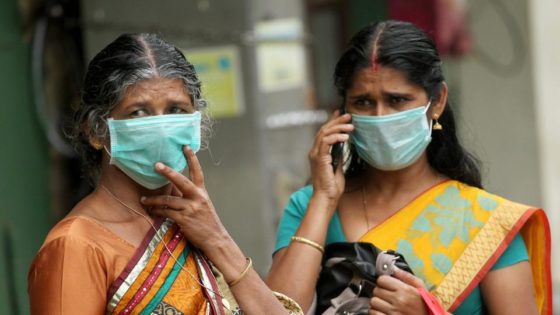 The Nipah virus, which is spreading through parts of India, has already killed 10 people, including a nurse treating patients who had become infected. So far, here's what we know about this little known infectious disease:
The outbreak of the Nipah virus began in the northern district of Kozhikode and has spread to neighboring Malappuram district, Rajeev Sadanandan, additional chief secretary for the state's Department of Health and Family Welfare, told CNN on Tuesday. So far, nine patients that tested positive for the virus have been quarantined and are being treated.
The first few cases were reported Saturday in a family from Kozhikode, and then India's Ministry of Health and Family Welfare and the World Health Organization were contacted, Vijayan's office said Monday via Twitter. Two brothers in their late 20s and their aunt, aged 50, died from the virus, while their father, 56, remains on life support.
CM condoled over the demise of Lini, the nurse who died of infection while taking care of Nipah virus affected patients. It is saddening to know that she lost her life while serving others. Her selfless service will be remembered. pic.twitter.com/RaE973xRJ2

— CMO Kerala (@CMOKerala) May 22, 2018
Many have never even heard of the Nipah virus (NiV), so we dug up some pertinent information. As per the fact sheet about Nipah Virus by the World Health Organization,  infected bats shed virus in their excretions and secretions such as saliva, urine, semen, and excreta but they are symptomless carriers.
The NiV is highly contagious among pigs and is spread by coughing. Direct contact with infected pigs was identified as the predominant mode of transmission in humans when it was first recognized in a large outbreak in Malaysia in 1999. Drinking of fresh date palm sap, possibly contaminated by fruit bats during the winter season may have been responsible for indirect transmission of Nipah Virus to humans. Human-to-human transmission of NiV has been reported in several recent outbreaks demonstrating a risk of transmission of the virus from infected patients to healthcare workers through contact with infected secretions, excretions, blood, or tissues.
To prevent human to human transmission of NiV, avoid the respiratory secretions of those infected, as those are the primary carriers of NiV in humans.  If you are near anyone who has the infection and have had the chance to breathe in their out-breath, there is a possibility of infection. The risk of transmission goes even higher if the infected patient has respiratory symptoms, such as coughing and sneezing. Because respiratory secretions are the primary carriers of the virus, never share food, a bed. or be in very close proximity to a sneezing or coughing NiV patient. At any cost, one should not come in contact with the saliva of an infected person.
Symptoms of Nipah virus can begin with a headache and some drowsiness but quickly transform into a coma within a matter of days, according to the US Centers for Disease Control and Prevention. Other symptoms include acute respiratory syndrome, where the lungs cannot get enough oxygen to the body, and fatal encephalitis, an inflammation of the brain.
So far, the only treatment for NiV is limited supportive care, similar to that of those who contract the flu or a nasty cold.