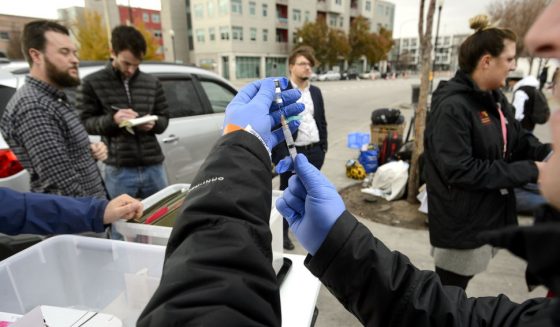 Salt Lake City, Utah is only one of three major cities in the United States experiencing a Hepatitis A outbreak. And now health officials are warning residents to protect themselves against infection, as the outbreak is expected to last for "months."
There seems to be no end in sight for the cities grabbling with Hepatitis A outbreaks. Spurred by over-regulation and taxation, homelessness is now the norm in many US cities, Salt Lake City being no different. And Health officials in Utah now believe they could continue to see new cases of Hepatitis A for the next several months.
The first outbreak of Hep A began in back in May in San Diego, but Salt Lake City started to notice serious issues in August. Since then, at least 75 cases have been reported statewide. With at least 3-4 new cases being discovered each week. The normal amount of Hepatitis A cases is around 2-4 per year.
Nicholas Rupp of the Salt Lake County Health Department said one of the main contributors to the outbreak among those experiencing homelessness is a lack of access to hygiene needs. "Places to use the restroom, places to wash their hands, and those things all contribute to the transmission of Hepatitis A," said Rupp. "Hepatitis A is not killed effectively by alcohol-based hand sanitizers," said Rupp. "We always say hand sanitizers no matter what you're trying to accomplish are not a substitute for hand washing."
Hepatitis A is often spread because of fecal matter getting on someone's hand. If a person does not wash their hands properly with warm soapy water, they can spread the infection to surfaces they touch. With temperatures dropping outdoor hand washing stations are not an option in Salt Lake City, and although many people often use hand sanitizers, as Rupp noted, it's not always effective.
Salt Lake County hasn't had to use bleach washes on the sidewalks just yet though like San Diego did. The 4th Street Clinic has also been suggesting vaccines and improved hand washing to all of their clients. Medical Director Dr. Michele Goldberg said patients are responding well. "Most people are totally for it," said Dr. Goldberg. "They want to get a vaccine and would rather get a vaccine than be in the hospital."
The clinic has given out more than 350 vaccines, and the state is helping other organizations distribute more. The reason the outbreak could take months to get under control is the virus's long incubation period, which is about 28 days. It can take weeks or months to show symptoms and the virus has normally spread to others by then.
Dr. Goldberg knows they have a long way to go to stop the outbreak, but said their staff is going to remain vigilant in getting people the information and help they need. "You don't lose the steam that you had initially," said Dr. Goldberg. "Really just every patient that comes in the door, every medical accident says OK have they had their vaccines."