This article was originally published by Tyler Durden at ZeroHedge.
EDITOR'S NOTE: Still think the police are on your side? The time for sugarcoating reality is over. The job of the enforcers is to keep the ruling class in power. Time to wake up, folks. When this level of tyranny comes here, who do you think will squash the dissent? It won't be the politicians suiting up and taking up arms to fight us. It will be their order following minions. They'll violate your rights in exchange for a paycheck you were stolen from to provide. Who's side are they really on?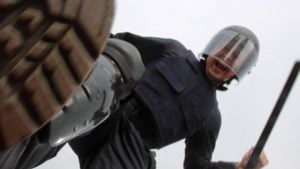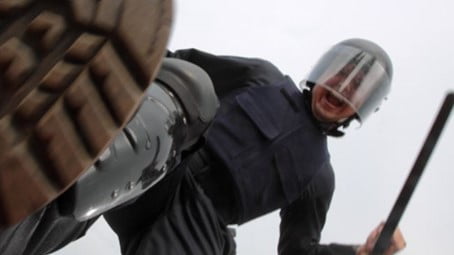 Update (0943ET): AP News reports police have begun arresting protesters at the trucker demonstration in Ottawa's downtown district.
Police "suiting up" in Ottawa. pic.twitter.com/rmNAdtD5FK

— Zeno Calhoun (@zenoc_oshits) February 18, 2022
CTV News Ottawa's Graham Richardson says there's a "beefed-up police presence."
Near Rideau and Sussex beefed up police presence #Ottawa #ottnews #onpoli #OccupationOttawa pic.twitter.com/0BlJshEIww

— Graham Richardson (@grahamctv) February 18, 2022
Images circulating on Twitter show police vans (commonly known as "paddy wagons") have assembled as arrests are being reported.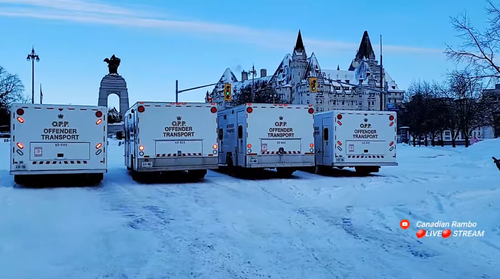 The government doesn't want the world to see what's happening in downtown Ottawa.
Ottawa police are telling media cameras, including one of ours, to stay away from trucker crackdown or face arrest https://t.co/cCVftDiBra

— Matt Finn (@MattFinnFNC) February 18, 2022
Government checkpoints in Ottawa.
Police in Ottawa have set up checkpoints all around the city to ask people where they are going. pic.twitter.com/9ByePAIjvw

— Marie Oakes (@TheMarieOakes) February 18, 2022
Here's a live feed of downtown Ottawa.