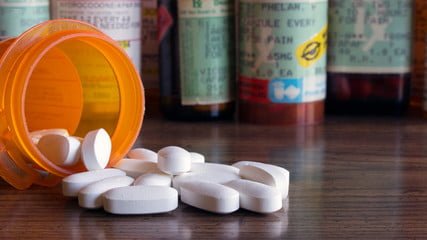 In what is being dubbed the "largest opioid takedown" in the United States, 31 doctors spanning 7 states have been charged with prescribing drugs that are legal. However, the charges state that these doctors had illegally prescribed more than 32 million pain pills, including a dentist who unnecessarily pulled the teeth of his patients so he could prescribe pain pills.
According to the Washington Post, these arrests included doctors who prosecutors allege traded sex for opioid pain killer prescriptions. A total of 60 people were indicted, including the 31 doctors, seven pharmacists, eight nurse practitioners, and seven other licensed medical professionals. The charges stem from the government's largest prescription-opioid takedown.
In Tennessee, a doctor who branded himself the "Rock Doc," allegedly prescribed dangerous combinations of opioids and benzodiazepines, sometimes in exchange for sexual favors. Over the course of three years, prosecutors say he prescribed nearly 500,000 hydrocodone pills, 300,000 oxycodone pills, 1,500 fentanyl patches and more than 600,000 benzodiazepines. –Washington Post
But there are some who allege the government themselves, thanks to lobbying and Big Pharma's money, are responsible for the opioid crisis, and they are only now trying to do damage control.  This is yet another example of how the government screws up the economy and lives of the public then swoop in with some kind of "fix" that likely won't fix anything at all.
https://www.shtfplan.com/headline-news/ex-dea-agent-blames-congress-and-drug-industry-for-opioid-crisis_10162017
Many of those addicted to opioid painkillers eventually take to the streets to get their drugs, where their "high" is much cheaper and more readily available.  But this recent takedown did involve more than 350,000 illegal prescriptions written in Alabama, Kentucky, Louisiana, Ohio, Pennsylvania, Tennessee, and West Virginia, according to indictments unsealed in federal court in Cincinnati.
"The opioid epidemic is the deadliest drug crisis in American history, and Appalachia has suffered the consequences more than perhaps any other region," Attorney General William P. Barr said in a statement.
"That is the equivalent of one opioid dose for every man, woman and child" in the region, Brian Benczkowski, an assistant attorney general in charge of the Justice Department's criminal division, said in an interview. "If these medical professionals behave like drug dealers, you can rest assured that the Justice Department is going to treat them like drug dealers."
According to the Centers for Disease Control and Prevention, the opioid epidemic has killed nearly 218,000 Americans between 1999 and 2017.  While deaths from overdoses reach crisis levels, many have taken their power back, and either refused opioid prescriptions or decided against filling them. Last year, the department charged 162 defendants, including 76 doctors, for their roles in prescribing and distributing opioids and other dangerous narcotics.
The arrests could leave thousands of addicts and legitimate pain patients without access to their doctors and health-care professionals. But don't worry, the government, who caused the problem, expanded the epidemic, and is now trying to appear as though they are fixing the problem, are going to help. Federal and local public health officials say they are working together to "ensure continuity of care."