This article was originally published by Tyler Durden at ZeroHedge.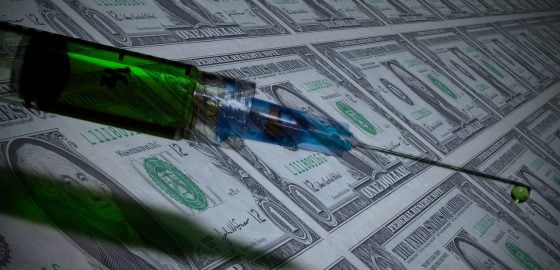 With US equity futures under pressure on Tuesday morning – it's not surprising whatsoever that hopium-inspiring vaccine headlines are hitting the tape.  Novavax was awarded $1.6 Billion in funding via Operation Warp Speed to support "large-scale manufacturing of NVX-COV2373."
NOVAVAX ANNOUNCES $1.6 BILLION FUNDING FROM OPERATION WARP SPEED
Gaithersburg, Maryland-based Novavax said in a statement that initial production of 100 million doses would start in late 2020. The aim is to have millions of doses ready by January 2021.
NOVAVAX – OWS AWARD FUNDS LARGE-SCALE MANUFACTURING OF NVX-COV2373, INCLUDING PRODUCTION OF 100 MILLION DOSES STARTING IN LATE 2020
Novavax shares jumped as much as 35% in premarket Tuesday following the news.
So far, this is the largest funding award via Operation Warp Speed, the White House program to fast track a vaccine for COVID-19.
"What this Warp Speed award does is it pays for production of 100 million doses, which would be delivered starting in the fourth quarter of this year, and may be completed by January or February of next year," Novavax CEO Stanley Erck told Reuters
The funds will also help the biotech cover expenses related to a large Phase 3 trial, the final stage of human testing, expected to start in fall, and could include as many as 30,000 subjects.
Today's announcement follows a $456 million partnership (in March) between Johnson & Johnson and the US government for a COVID-19 vaccine. In April, the government awarded Moderna Inc $486 million for vaccine development and up to $1.2 billion in May for AstraZeneca's vaccine being developed with Oxford University.
More Proof Trump Is Working On Bill Gates' Vaccine Under "Operation Warp Speed"
Medical Tyranny: Trump Pivots To Mandatory Vaccinations Under Operation "Warp Speed"