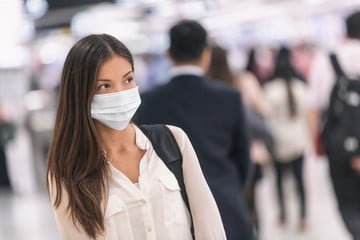 A man from New Zealand says that he has had a first-hand account of what's been happening in Wuhan after the coronavirus' outbreak at the end of 2019. He says people are fighting for food and reselling used facemasks.
A New Zealand man living in China has described his reality of the viral outbreak that has killed almost 500 people now, saying the China we see on the internet is far from the truth.  The mainstream media is manipulating the information and with Google and The World Health Organization teaming up to "kill" or censor accounts that don't fit the official narrative, we may not ever get the complete and honest truth of just how bad the outbreak could become.
The aforementioned New Zealand man, who lives in northeast China with his wife and two children, says they are barely getting by. "It's getting worse by the day … everything has fallen apart here," the man, who asked for anonymity out of fear of his family's safety, said, according to the New Zealand Herald. 
"Fear levels are high and there is a lot of conflicting information, but people are staying calm," an Australian woman told the Herald, contradicting the New Zealanders' claim of mayhem.
The New Zealand man told the Herald people had been selling masks for as much as $50. "I see old ladies walking around picking face masks out of the trash and then they sell them on the street the next day laughing about it," he said. "When China says they've got enough and they're handing them out, they're not, I can tell you that now – there's none available anywhere." To make them appear new, the women would iron them after plucking the masks from the bin, the man said. Additionally, according to his claims,  fights were often breaking out over things like eggs and vegetables.
People in China are being asked to wear face masks when out in public to help prevent the virus's spread, which could reach pandemic levels.
How To Stay Healthy During Flu Season And Prevent Coronavirus Infection
HOW TO PREPARE YOUR HOME (QUARANTINE) FOR A PANDEMIC