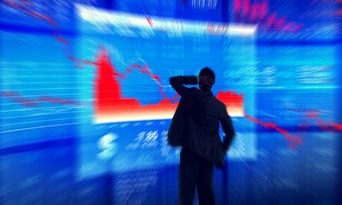 In addition to being the longest economic expansion in United States history, a number of reliable recession warning indicators have been flashing red in 2019. The latest of these is the New York Federal Reserve's recession probability index.
Those who have been skeptical about the economic recovery and the "robust" economy have had good reasons to do so.  But now there's just one more reason recession alarms are sounding. "In the past, every time since 1960 that this index has breached 30%, a recession followed," Morgan Stanley Wealth Management CIO Lisa Shalett wrote in a July 1 note to clients. It rose to 32.9% in June.
Shalett also pointed to the gold/silver ratio, weakness in auto sales, housing, manufacturing, earnings, and capital spending. "Recession probability models have entered warning territory and it may be unavoidable," she added according to Axios. 
The most worrying part of a recession is that not only have most Americans not recovered from the last one, but many are blissfully unaware that an economic downturn is right around the corner. As the mainstream media lambasts the American public with tales of an epic and monumental economy, the data points and actual facts continue to rise to the surface.
Bankrate recently reported that a growing number of Americans have no savings whatsoever. Meaning if an emergency occurs, they will have no option to go into debt, or if they have bad credit, worse…have no way to pay for the emergency. Around 28% of adults in the U.S. have no emergency savings, according to Bankrate's latest Financial Security Index. One in four have a rainy day fund, but it's not enough money to cover three months' worth of living expenses.  That would mean that a job loss or one missed paycheck would put almost a third of Americans in financial hardship.
Economic factors and the central bank's manipulation of the economy have decimated the middle class and made it difficult for people to save and prepare for future recessions. "Household expenses have gone up and in many cases incomes haven't kept pace," says Greg McBride, CFA, Bankrate's chief financial analyst. "So if you haven't been adding to that savings, that and the regularity of unplanned expenses can easily chip away at what once was an adequate savings cushion."
With recession warning bells going off, now is the time to get your financial house in order.  There's not a lot any of us can do about the Federal Reserve or government debt, but we can prepare ourselves.
In Daniel Ameduri's book Don't Save For Retirement, he helps readers redefine wealth as a philosophy, not a dollar amount.  When he was twenty-seven years old, Ameduri was on the brink of bankruptcy. A decade later, he's a multi-millionaire, having taught himself about economics, investing, and other money matters that he never learned at school or at home. The expert guidance he provides in Don't Save for Retirement will help you prepare yourself by creating passive income in a centrally planned and controlled environment.