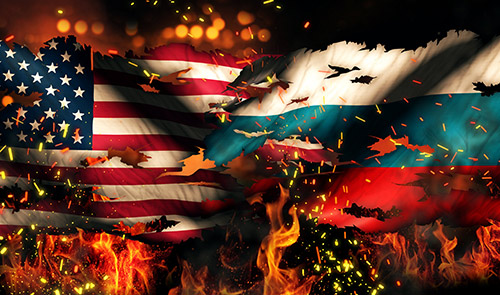 As the U.S. elections draw nearer, the amount of bellicose rhetoric from politicians and key military commanders (in truth, "politicians" as well) has been increasing.  The main focus of that rhetoric has been directed toward Russia, and is also "blathered" in the direction of China, North Korea, and Iran when it suits U.S. political interests.  The problem is that all of it is not just talk: action has been taken, especially regarding Russia and the Syrian theatre of operations.
Within the past several weeks, the U.S. has bombed Syrian troops, killing 62 outside of Deor ez-Zor in airstrikes and then admitting to doing so "mistakenly."  The Russians responded by firing up a UN/coalition convoy almost immediately after.  Russian naval artillery then took out a command post with approximately 30 "coalition" officers, some of them being Americans.  The U.S. then made itself responsible (indirectly) for an attack on the Russian Embassy in Damascus, Syria: anti-Assad Islamic militants did the job, and these have support with funding and materials of the U.S.
These "cat-and-mouse" exchanges have not been new by any means, as evidenced by the aerial "Top-Gun" provocative fly-by's that have been occurring all year long, in Syria as well as in Eastern Europe.  The U.S. has retracted the cease fire agreement and suspended all operations and discussions with Russia pertaining to Syria.  What is new is the level that the rhetoric has reached…rhetoric that is no longer rhetorical but actually constitutes direct threats against Russia.
On September 29, 2016 the Washington Post reported these words from U.S. Secretary of Defense Ash Carter:
"Across the Atlantic, we're refreshing NATO's nuclear playbook – to better integrate conventional and nuclear deterrence, to ensure we plan and train like we'd fight, and to deter Russia from thinking it can benefit from a nuclear use in a conflict with NATO."
The irony of that statement is evident.  While the U.S. emplaces missile batteries in Germany, Romania, and Moldova, Russia has not responded by placing missiles in either Cuba or Venezuela, two countries she holds strong ties with both militarily and economically.  Carter champions deterrence while simultaneously works to increase U.S. nuclear and conventional buildups in Eastern Europe.  But it doesn't stop there with his words.  This was reported by George Ourfalian of AFP in an article entitled US Using Syrian Crisis to 'Wage a Surrogate War' Against Russia, on October 4, 2016:
"US State Department spokesman John Kirby has made strong statements regarding Russia's involvement in Syria, claiming that if Russia will not cooperate with the US, Moscow will keep sending troops home in body bags."
Strong words, and quite bellicose originating with a State Department spokesman completely removed from harm's way.  Then this came out today, the date of this writing on October 5th as reported by Alex Jones' Prison Planet:
"I want to be clear to those who wish to do us harm…. the United States military – despite all of our challenges, despite our [operational] tempo, despite everything we have been doing – we will stop you and we will beat you harder than you have ever been beaten before. Make no mistake about that." 

General Mark Milley, U.S. Army Chief of Staff
Milley was directing these words toward Russia.  He went on to describe the next coming war, as such:
"[The next war will] be highly lethal, unlike anything our Army has experienced at least since World War II," and would involve fighting in "highly populated urban areas."
Did the General mean overseas, or in the United States?  The Russians are currently (until the 7th of October) conducting nuclear evacuation drills involving over 40 million people.  Everyone from Putin and his general staff to local Moscow reporters believe that a nuclear war started by the United States is just on the horizon.  Just this week, Putin shelved an agreement between Russia and the U.S. to reduce the amount of Plutonium that can be converted into nuclear warheads.
That agreement had been forthcoming since Obama initiated it in 2012, but Putin was straightforward in his reasoning behind cancelling things on Russia's end from PrepBlog on 10/3/16 that because of U.S. belligerence, Russia needs:
"…urgent measures to defend the security of the Russian Federation."
Putin and the Russian people believe the U.S.'s actions are going to lead to a nuclear conflict initiated by the United States.  The leadership of the U.S. is made up of politicians who began their careers as Marxist-Socialists.  Traitors now have their fingers on the triggers of the nuclear warheads, aided by "yes-men" of the general staffs who will not remember their oaths to the Constitution of the United States and the American people.  They will ignore that these charges take precedence above any orders given by a petty, dope-smoking, Marxist community organizer of dubious citizenship who was "emplaced" into office to destroy the country.
Instead of statesmen and diplomats, we now have self-interested, politically-motivated belligerents backing Russia and other nations into corners and pushing them toward war.  How long the war of words will be continued is unknown; however, when the missiles begin to fly you can be certain of something.  You can rest assured that the men who spoke those words will be in bunkers and other safe places and out of harm's way…paid for by the American taxpayer.
---
Jeremiah Johnson is the Nom de plume of a retired Green Beret of the United States Army Special Forces (Airborne).  Mr. Johnson is also a Gunsmith, a Certified Master Herbalist, a Montana Master Food Preserver, and a graduate of the U.S. Army's SERE school (Survival Evasion Resistance Escape).  He lives in a cabin in the mountains of Western Montana with his wife and three cats. You can follow Jeremiah's regular writings at SHTFplan.com or contact him here.
This article may be republished or excerpted with proper attribution to the author and a link to www.SHTFplan.com.
---
Related:
Chemical, Biological, Radiological, Nuclear: Are You Ready For An Attack On U.S. Soil?
A Step-By-Step Guide To Prepare For Any Disaster
Predictive Programming: New "Designated Survivor" Series Foreshadows Continuity Of Government Emergency
Four Flash Points That Could Trigger World War III: "We Have Not Been This Close To Nuclear War In A Long Time"
The Threat is Real and Imminent: "Two North Korean Satellites Orbiting Over U.S. May Be Armed With Miniaturized Super-EMP Weapon"
How an Attack on America Would Probably Begin: Possible Courses Of Action By Foreign Military Powers