This article was originally published by Michael Snyder at The End of the American Dream under the title: Oh Great – Now We Have A "Hot War" With Russia And We Are Being Warned That "World War Three Can Only Be Nuclear".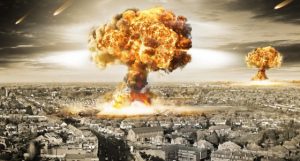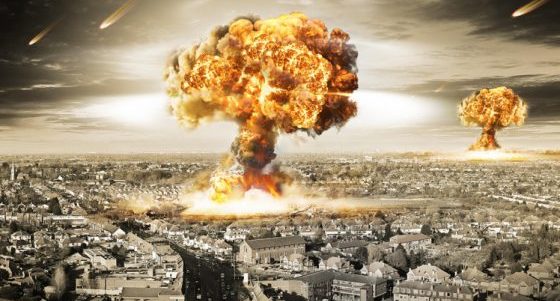 We are watching a slow-motion horror show unfold right in front of our eyes, and nobody seems to have a way to stop it.  The vast majority of the global population did not want World War III to happen, but it has started anyway.
For years I have been warning that such a conflict would erupt if we did not change course, and now here we are.  I am very angry at Vladimir Putin for launching a full-blown invasion of Ukraine because he didn't need to do that.  And I am also very angry at the Biden administration, European leaders, and Ukrainian President Volodymyr Zelensky for endless provoking the Russians and for refusing to negotiate an agreement that could have settled all of this peacefully.  I blame both sides for the war because in my opinion it could have been avoided so easily.  But now that World War III has begun, there will be no going back.
On Thursday, the head of the Russian Foreign Intelligence Service made a statement that should be a major league wake-up call for all of us.
According to Sergei Naryshkin, Russia is now engaged in a "hot war" with western powers…
Also on Thursday the head of the Russian Foreign Intelligence Service (SVR), Sergei Naryshkin, issued a series of bombshell statements which may reveal Moscow's broader aims in the war concerning how Russia's sees its ultimate security aims. Naryshkin said that "for us this is no longer a Cold War with the West but a hot war," according to Interfax. He said in the rare statement that "Russia now has a real chance to put an end to the war that has been waged in the Post-Soviet space for the past 30 years" – as also quoted in TASS.
If that is how the Russians really view things, that is extremely sobering.
Because a "hot war" between two sides armed with nuclear weapons has the potential to spiral out of control very easily.
In fact, Russian Foreign Minister Sergei Lavrov just brought up the specter of nuclear war during a rant in which he directly compared the United States to Nazi Germany…
"It is clear that World War Three can only be nuclear."
So does the Biden administration actually want to fight a nuclear war with Russia?
If it does, I hope that the Biden administration will be honest about this so that millions of us can get out of the way before it happens.
If it doesn't, then we should try to find a peaceful way out of this mess.
Unfortunately, it appears that a peaceful solution isn't going to happen any time soon.
After talking with Vladimir Putin for about 90 minutes on Thursday, French President Emmanuel Macron warned that "the worst is yet to come"…
French President Emmanuel Macron thinks "the worst is yet to come" in Ukraine after talking with Russian President Vladimir Putin on Thursday, according to multiple reports.

A senior French official said Macron's warning came after the two leaders spoke for 90 minutes, which did not yield any diplomatic progress, The Washington Post reported.

The official said Putin was determined to carry out the ongoing war in Ukraine until "the end," the paper reported.
We are being told that the Ukrainian people are "fighting for democracy", but that isn't exactly accurate.
Yes, the Russians are authoritarians, but so are the Ukrainians.
Before the war, there were three television stations that were saying things that Ukrainian President Volodymyr Zelensky and his minions didn't like, and so Zelensky shut them down.
And Zelensky and his minions also rounded up and arrested the leadership of the main opposition political party in Ukraine.
Just imagine how we would feel if the Democrats rounded up all of the leaders of the Republican Party and put them in prison.
The Zelensky regime is an authoritarian regime, and we should never forget that.
And as I detailed yesterday, Nazis and neo-Nazis are running around all over the place in Ukraine.
But in that article, I did not intend to suggest that most ordinary Ukrainians are evil.  In fact, in an article that I posted earlier today, I tried to make it very clear that most Ukrainians are just like you and me.
They just want to be left alone so that they can live their lives in peace and quiet.
Unfortunately, that is no longer possible.
Here in the western world, rapidly rising oil prices are going to make life more difficult for all of us.
On Thursday, U.S. crude actually reached 116 dollars a barrel at one point…
US oil prices briefly spiked on Thursday to their highest level in nearly 14 years, as concerns about disruptions to Russia's supplies continue.

US crude jumped as much as 5.4% to $116.57 a barrel early Thursday — the highest trade since September 22, 2008. A week earlier Lehman Brothers collapsed.
Needless to say, a higher price for oil is going to mean that all Americans will soon be feeling a lot more pain at the pump.
According to USA Today, the average price of a gallon of gasoline has now hit five dollars in San Francisco…
Get ready to pay even more at the pump – perhaps as much as $5 per gallon or more.

Some consumers are already paying more than that: The average price for a gallon of regular gasoline in San Francisco hit the $5 mark Thursday. That's the first time a U.S. city has hit an average that high, said Patrick De Haan, head of petroleum analysis at fuel-savings app GasBuddy.
One California resident that was interviewed by a news crew admitted that "it hurts a lot" to fill up his vehicle now.
But this is just the beginning.
In fact, JPMorgan is projecting that the price of oil could eventually go as high as 185 dollars a barrel…
Brent crude could end the year at $185 a barrel if Russian supply continues to be disrupted, JPMorgan Chase & Co. wrote in a note Thursday.
Can you imagine what our economy will look like when people have to pay seven or eight dollars (or more) for a gallon of gasoline?
Things are really starting to get crazy out there.
But of course, we certainly have it much easier than the people of Ukraine.
As Russian forces encircle the major cities, supplies of food and energy will become increasingly tight.
Millions of Ukrainians will soon be extremely cold and extremely hungry as they slowly go mad from all of the Russian shelling that is constantly happening all around them.
For the citizens of Ukraine, World War III has already arrived.
For those of us in the western world, the conflict on the other side of the globe will cause inconveniences for now, but it is only a matter of time before we experience severe pain too.
***It is finally here! Michael's new book entitled "7 Year Apocalypse" is now available in paperback and for the Kindle on Amazon.***
About the Author: My name is Michael Snyder and my brand new book entitled "7 Year Apocalypse" is now available on Amazon.com. In addition to my new book, I have written five other books that are available on Amazon.com including "Lost Prophecies Of The Future Of America", "The Beginning Of The End", "Get Prepared Now", and "Living A Life That Really Matters". (#CommissionsEarned) When you purchase any of these books you help to support the work that I am doing, and one way that you can really help is by sending digital copies as gifts through Amazon to family and friends. Time is short, and I need help getting these warnings into the hands of as many people as possible. I have published thousands of articles on The Economic Collapse Blog, End Of The American Dream, and The Most Important News, and the articles that I publish on those sites are republished on dozens of other prominent websites all over the globe. I always freely and happily allow others to republish my articles on their own websites, but I also ask that they include this "About the Author" section with each article. The material contained in this article is for general information purposes only, and readers should consult licensed professionals before making any legal, business, financial, or health decisions. I encourage you to follow me on social media on Facebook and Twitter, and anyway that you can share these articles with others is a great help. These are such troubled times, and people need hope. John 3:16 tells us about the hope that God has given us through Jesus Christ: "For God so loved the world, that he gave his only begotten Son, that whosoever believeth in him should not perish, but have everlasting life." If you have not already done so, I strongly urge you to ask Jesus to be your Lord and Savior today.