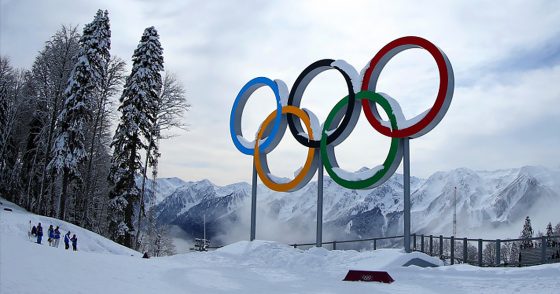 As we previously reported, the norovirus is spreading quickly among security guards at the Winter Olympics in Pyeongchang, South Korea. Determined not to let the Olympics spiral into a widespread gastrointestinal nightmare, organizers of the Games seemed intent on carrying out a scorched-earth assault on every last germ in a 40-mile radius.
According to the New York Times, by Thursday night, 42 more cases of norovirus were confirmed around the sites of the 2018 Winter Olympics, bringing the official tally of cases this week to 128. A mere 24 hours before the opening ceremony of the Games, the outbreak has threatened to undermine an otherwise watertight start to the global sports event.
Competitors, Olympic staff members, and journalists claimed not to be panicking, but the quietly growing sense of wariness in Pyeongchang was palpable. Sneezes provoked sideways looks. Fist bumps replaced handshakes. People washed their hands over and over and over again. "We've got every germ killing thing that you can have, just in case, and we've got masks if it gets bad enough," said Mitchell Whitmore, an American speed skater at his third Olympics.
But the norovirus is easily spread and difficult to contain.
The norovirus is an infection which causes the sudden and severe onset of diarrhea and vomiting; symptoms which begin within 12-48 of exposure and can be painful. The virus is highly contagious and commonly spread through food or water that is contaminated during preparation or contaminated surfaces. You can also be infected through close contact with an infected person. Most people will cover without treatment in three days, however, hospitalization can occur if victims are infants or elderly.

Organizers said this viral infection is particularly bad. Of the 1,200 guards removed from duty, 41 had suffered a sudden onset of vomiting and diarrhea on Sunday and all had been taken to a hospital. The outbreak comes just days before the opening of South Korea's 2018 Winter Olympics on Thursday.-SHTFPlan
At a news conference on Wednesday night, Dr. Park Kisoo, a spokesman for the Korea Centers for Disease Control and Prevention, tried to temper the growing sense of worry.  "You don't need to go running out of the room if somebody sneezes," Park said. Park preached the importance of proactive personal hygiene. So along with wool caps and long underwear, bottles of hand sanitizer in varying shapes and sizes have become this year's hottest Olympic accessory. Plus, those measures are proving to be ineffective in the prevention of the spread of the norovirus anyway.
Since the virus is found in the vomit and feces of an infected person, it makes sense that protecting oneself from a sneeze won't help much.