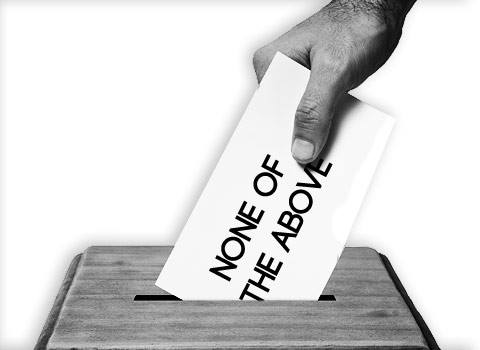 Trapped inside the two-party beast, where saying "no" to one candidate has often meant voting for the "lesser of two evils" can be downright disillusioning, particularly for those who feel the system is broken beyond all repair.
Sending a firm message of "no confidence" might do more good for the country than continuing to hand power to slick, PR-driven politicians who have continued to betray voter promises and sell out the country to corporate and special interests.
Well, now one state senator has introduced a bill to do just that:
A recent proposal by State Senator Branden Petersen (R-MN) would place "None of the Above" as an option in elections. Under Petersen's plan (which would be binding in all but presidential contests), if such option were to receive the most votes in a November election, a special election would be held with new candidates in February. Any candidates who had been listed on the prior ballot would be excluded.
Finally. It's about time.
Maybe it's not the solution everyone has been waiting for, but at least it sends the right message.
The Star Tribune reports:
GOP Sen. Branden Petersen's proposal is certainly a longshot, even by his own admission. But he's hoping the bill he introduced last week at least stirs some serious talk and gives frustrated voters an idea to rally around.

"This would give people an opportunity to really make a strong statement in rebuke of the present dynamic. It would be an honest check on the two-party system," said the first-term senator from Andover who at times has clashed openly with his own party. "This gives people a chance to legitimately voice their opinion."
Minnesota's bill would call for new elections and throw out the old candidates:
It holds the potential for new elections if the "None of the Above" line garners the most votes.

The listed candidates from the prior race would be excluded, although write-in candidates would remain eligible.
Nevada does have a similar "None of the Above" option, but whereas the Minnesota bill would trigger a new election, in Nevada, a winning "None of the Above" ballot only puts the next highest voted candidate office – more or less defeating the purpose. This actually happened in Nevada's Democratic primary for Governor:
The only state to currently have a similar law is Nevada. In contrast, Nevada allows the top vote-getting candidate to prevail, an occurrence which took place in last year's Democratic primary for governor, as Robert Goodman finished second to "None of these candidates," yet still received the gubernatorial nomination. Similar proposals have been introduced in several states, but none have prevailed.
Not surprisingly, many of Sen. Petersen's colleagues were skeptical of the bill, perhaps unamused at even the remote prospect that it could exclude them from office under a cloud of embarrassment and shame.
Chairman of the House Government Operations and Election Policy committee, Tim Sanders, ridiculed the bill by comparing it to the Richard Pryor comedy Brewster's Millions, where a successful "None of the Above" campaign was used in New York.
"That's not something that grabs my interest. I'm certainly willing to hear him out," Sanders said.

But Sanders is worried it would be too complex and feed an unachievable hunger for the perfect candidate.
Another election committee official in Minnesota's Senate was equally dismissive:
Senate Elections Subcommittee Chairwoman Katie Sieben, DFL-Newport, said she's inclined to give the bill a hearing but considers it an "excessive and expensive" answer to concerns of voter discontent. "I'm not convinced," she said.
The fact that many elected officials in both the Democrat and Republican parties would feel uncomfortable with "None of the Above" is completely the point!
Voters have been almost helpless to "throw out the bums" even after realizing how corrupt and unlikeable they are.
As Melissa Melton wrote, despite an 11% approval of Congress in both parties, more than 96% of Congress is regularly re-elected:
Politifact even did the checking on this one and deemed it true. The numbers could be fudged a little both ways, with the approval ratings skyrocketing as high as 14% and the re-elected numbers going down as low as 95%, but overall…THIS MEME JUST HAPPENED TO AMERICA.

"Voters hold Congress in low regard, yet they re-elect almost everyone," Politifact declared.
There is an overwhelming sentiment throughout the country that the country is not being honestly represented, yet little is done to change it.
If this proves to be one small step for mankind – with its own limitations and unlikely prospect of success – then let's take it as a small step in the right direction.
As the Libertarian Republic aptly notes:
This Minnesota proposal is just the latest news substantiating an outcry against how we, as a citizenry, have seen our government perform, particularly over the past several years. As much as politicians talk about their beliefs and platitudes, all of those talking points seem to disappear once they take office. Even those with initially positive intentions all too often seem to be infected by the tone of status quo politicking. While much is promised, little is done. Personal ambitions overtake policy goals, as complacency takes effect.

No one reform will change how government performs its duties. However, by in small ways bringing attention to corruption, as well as our dissatisfaction with the performance of elected officials, we can empower ourselves to make changes. Maybe "None of the Above" is the candidate we have needed all along.