This article was originally published by Tyler Durden at ZeroHedge.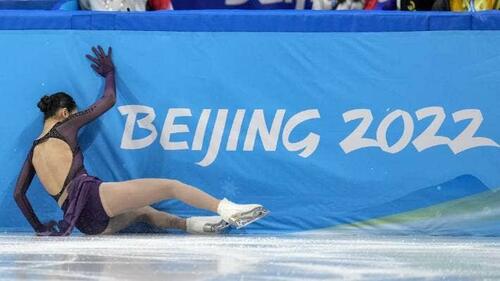 Putin snoozing, ratings cratering, and a token Uyghur to insult the intelligence of anyone still watching with at least two brain cells – this year's 2022 Winter Olympics is shaping up to be an absolute disaster.
Viewership for Friday's Opening Ceremony was a dismal 16 million, as NBC faces what Yahoo!sports' Dan Wetzel called a "cataclysmic loss" of audience – a record low exceeding the previous record of 20.1 million viewers for 1988's Calgary games. It was 43% below the 2018 games' opening ceremony in South Korea which had 28.3 million viewers.
It comes on the heels of Thursday's ratings disaster that saw just 7.7 million people tune in, dramatically below same-night audiences of 2018 (16 million) and 2014 from Russia (20.02 million).

NBC said the 16 million is a "total audience delivery" and includes all of its networks and streaming. The television-only average audience was below 14 million for the day, per the preliminary data released by the network. -Yahoo!
As Deadline noted, just "8.7 million tuned in on NBC in primetime [to] see the pre-taped Mike Tirico and Savannah Guthrie-led coverage of the propaganda-heavy spectacle put on by Chinese President Xi Jinping and filmmaker Zhang Yimou."
The Opening Ceremony was so boring that Russian President Vladimir Putin decided to 'rest his eyes' during the Ukrainian team's entrance.
Putin fell asleep during the opening ceremony of the Olympics. pic.twitter.com/Eplkr6QThd

— MRCTV (@mrctv) February 4, 2022
As Yahoo notes, however, ratings do tend to increase over the first week. That said, several countries are currently staging a "diplomatic boycott" of the Games over China's treatment of Uyghurs, an ethnic minority group of Muslims who live in the northwest of the country.
While denying any abuse, China continues to deny the United Nations from sending human rights officials to observe the region.
Anti-Covid measures are also putting a damper on enthusiasm, making life inside its "closed-loop" a 'near joyless experience for the athletes,' according to the report.
It didn't help that China used cross country skier Dinigeer Yilamujiang – who China's state-run media claimed has Uyghur heritage – was paraded out as one of the cauldron lighters during the Opening Ceremony, drawing sharp rebuke.
It was a disturbing and dispiriting moment, a young athlete and an iconic moment in every Olympics used as a propaganda prop to cover up a campaign of slavery, torture, forced abortions and internment in reeducation camps. It did nothing to build good feelings toward the competition.

As such, rather than a celebration, this feels, and looks, like a grind of hardship, isolation and suspicion. -Yahoo!
The hashtag #GenocideGames began trending in recent days.
UN Ambassador Linda Thomas-Greenfield said it was a stunt designed "by the Chinese to distract us from the real issue here… that Uyghurs are being tortured, and Uyghurs are the victims of human rights violations."
UN Ambassador Linda Thomas-Greenfield on China featuring a Uyghur athlete in the opening ceremony of the Olympics: "This is an effort by the Chinese to distract us from the real issue here… that Uyghurs are being tortured, and Uyghurs are the victims of human rights violations" pic.twitter.com/ji2RgBVIvO

— Aaron Rupar (@atrupar) February 6, 2022
Adding to China's woes, US-born figure skater Zhu Yi, competing for china, fell hard during her first combination attempt on Saturday, and later stumbled on a triple loop attempt – resulting in the hashtag #ZhuYiFellOver, which had over 230 million views by Sunday afternoon before it was taken down by Chinese social media website, Weibo.
According to the report, China's restrictions on the event has turned into a nightmare for NBC – which is paying $7.75 billion to the OIC to broadcast the Olympics through 2032.
NBC is doing almost all it can but its reporters and crews are stuck in the "closed loop." That eliminates live shots with mountains or historic buildings as backdrops as well as stories about the culture, architecture and people of China that can make the Olympics about more than just sport.

Host Mike Tirico broadcast from a set designed like a mountain chalet, but that could have been in Breckenridge, not Beijing. And Tirico, the face of the broadcast, will be leaving in the coming days to anchor NBC's coverage of the Super Bowl, which due to the lengthening of the NFL season has spilled into the Olympic calendar and further siphoned off interest and outside media coverage.

Meanwhile, most of NBC's play-by-play broadcasters are calling the Games remotely from studios in Connecticut rather than risk China's COVID policies. Yahoo!
As Just the News notes, a recent Morning Consult poll of 2,000 American adults found that 65% have a lack of interest in the events, 57% said they have no interest in athletes, and 40% said it was because China was hosting.