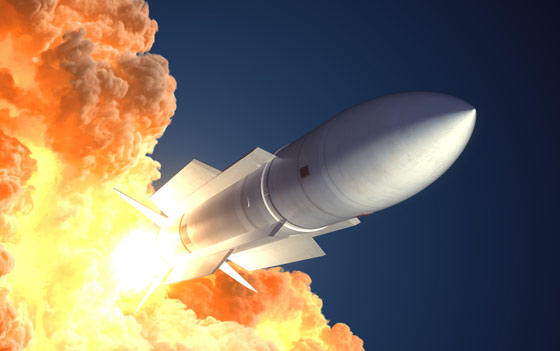 As of this writing, North Korea has test-launched another four (4) intermediate-range ballistic missiles that traveled about 600 miles before splashing into the Sea of Japan.  The test has been claimed to be a response to military exercises conducted by the U.S. and South Korea.  That evening, the U.S. landed launching pads (two of them) for the THAAD missile defense system that has been planned on being deployed to the region to help defend Japan and South Korea.  The Secretary of Defense, James "Mad Dog" Mattis just telephoned the Secretary of Defense of South Korea, promising that THAAD would be sent in its entirety "ASAP" for deployment.
Japan is considering a first-strike against North Korea to prevent further launches and/or the possibility of a North Korean attack.  South Korea is pleased with the deployment; the pads were sent to South Korea and will be followed by the rest of the systems.   Meanwhile Russia and China condemned the actions taken by the U.S. to send THAAD, stating that it will only further provoke the North Koreans and could also destabilize the region's balance of power.
The Russian Deputy Defense Minister condemned the deployment by the U.S. last October after the missile defense system was promised to South Korea.  Reuters reported a short blurb of the Russian view of this per Dmitry Peskov, a spokesman for the Kremlin.  In an article entitled "Kremlin says seriously worried about North Korea missile drills," Peskov stated the following on March 6:
"Definitely, we are seriously worried.  These are the sort of actions that lead to a rise in tension in the region and of course in this situation, traditionally, Moscow calls for restraint from all sides."
Japan is considering pursuing a first-strike against North Korea, but does not yet have that capability.  That being mentioned, there are also serious factors that may have to be considered when China's protests are taken into account.  According to an article entitled As North Korea Missile Threat Grows, Japan Lawmakers Argue for First Strike Options, by Tim Kelly and Nobuhiro Kubo of Reuters, here is the problem to be considered:
"For decades, Japan has been stretching the limits of its post-war, pacifist constitution. Successive governments have said Tokyo has the right to attack enemy bases overseas when the enemy's intention to attack Japan is evident, the threat is imminent and there are no other defense options.  But while previous administrations shied away from acquiring the hardware to do so, Prime Minister Shinzo Abe's LDP has been urging him to consider the step.

"It is time we acquired the capability," said Hiroshi Imazu, the chairman of the LDP's policy council on security. "I don't know whether that would be with ballistic missiles, cruise missiles or even the F-35 (fighter bomber), but without a deterrence North Korea will see us as weak."

Any weapon Japan acquired with the reach to hit North Korea would also put parts of China's eastern seaboard within range of Japanese munitions for the first time. That would likely anger Beijing, which is strongly protesting the deployment of the advanced U.S. Terminal High Altitude Area Defense (THAAD) anti-missile system in South Korea."
The last paragraph is the kicker, because the unmentioned point is not just relevant to Japan, but to the U.S.  Since Japan does not have the capability to mount that first strike, they would need the equipment mentioned in the cited paragraphs.  That material would need to be obtained from the United States.  The volatility of the situation and a perceived shift in the balance of power could lead any of those nations…China, North Korea, or Japan to start off hostilities that would inevitably escalate.
One of the other issues involved in all of this relates to U.S. defenses.  In an article by the Washington Post written by Natalie Johnson on March 8, 2017 the North Korean capability to mount an attack against U.S. military bases in Hawaii and the Pacific Region are improving.  The article is entitled North Korea Could Soon Launch an Attack on Hawaii, and here is some excerpted material from that piece:
North Korea could soon have the capacity to launch an attack on Hawaii that would devastate America's Pacific military bases, accelerating the need for the United States to upgrade missile defenses in the area.  The United States today relies on ground-based ballistic missile interceptors deployed in California and Alaska to protect Hawaii, but these defenses would do little to guard U.S. territory in the Pacific against a North Korean intercontinental ballistic missile (ICBM), which officials believe is nearing completion.
All of this is being viewed by all parties involved in a "conventional" light, with the assumption being that North Korea would use conventional HE (high-explosive) warheads on their missiles.  It is not taking the nuclear threat into account.  The United States has continuously "flip-flopped" in its analysis of the North Korean threat, but as recently as the beginning of this year, General Curtis Scapparotti of Pacific Command stated (as released in previous articles) that the North Koreans already have ICBM (Intercontinental Ballistic Missile) launching capability.
Also worth considering are the improvements in miniaturization technology and warhead development that North Korea has been making over the past several years.  As has been reported in other pieces with references to experts in the defense industry, North Korea is well on its way to developing an EMP (Electromagnetic Pulse) weapon, if it has not already accomplished the task.  For further study, refer to the writings of Dr. Peter V. Pry, America's foremost expert on the subject of an EMP threat against the U.S.
A war with North Korea could easily drag a half dozen nations into the conflict and would undoubtedly have long-reaching effects.  While taking the precautions to reinforce our allies in the region, we will have to balance such actions with diplomacy and ensure those actions are not perceived as either a "threat" or further imperialism.  Such actions as coup d'états and fostered revolutions (termed "nation-building") must not be carried over from the Obama administration, the most dismal period of failed foreign policy in American history.  In this instance, North Korea could prove a "powder keg" that we must ensure is not lit either from their direction, or from ours.
UPDATE: As of Monday, March 13, 2017 tensions in the region continue to heat up. The U.S. Navy is simulating strikes on North Korea, Japan has deployed warships to the South China Sea and the U.S. military has sent drones capable of striking North Korean targets to South Korea.
---
Jeremiah Johnson is the Nom de plume of a retired Green Beret of the United States Army Special Forces (Airborne).  Mr. Johnson is also a Gunsmith, a Certified Master Herbalist, a Montana Master Food Preserver, and a graduate of the U.S. Army's SERE school (Survival Evasion Resistance Escape).  He lives in a cabin in the mountains of Western Montana with his wife and three cats. You can follow Jeremiah's regular writings at SHTFplan.com or contact him here.
This article may be republished or excerpted with proper attribution to the author and a link to www.SHTFplan.com.
Related Reading:
"Doomsday EMP Weapon" Could Kill 90% of U.S. Population… And Government Won't Save You
North Korea Keeps Pushing… How Will No-Nonsense President Trump Respond?
"Super EMP" Capable of Disabling Power Grid Across Lower 48 States