This article was contributed by Lior Gantz of The Wealth Research Group.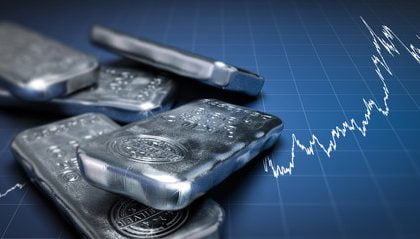 In the past two weeks, we believe we've seen both GOLD AND SILVER bottoming.
If indeed, September 28th was the bottom, this would mark a 54-day correction, from the top on August 5th, with a PRICE DROP of 11%, which isn't A LOT for this kind of move, considering the run-up, leading up to it. Frequently, after all-time highs, gold can RETRACT BY 15% and even by 20%, so there's a chance this is a FAKE BREAKOUT. But we tend to believe that the anticipation of YET ANOTHER stimulus package is what's causing the markets to be FORWARD-LOOKING.
Silver's correction STARTED ON August 6th, as the metal nearly touched $30/ounce, peaking at $29.37, and bottoming (as of today) at $22.68 on September 23rd.
That's a MASSIVE DROP. All told, it's a -22.8% move in just 50 days!
Even Goldman Sachs, which predicts gold reaching $2,500/ounce by June 2021, is also forecasting silver hitting $30, but that's BULLSHIT, in my opinion!
If gold goes to $2,500, silver will trade over $40; you can take that TO THE BANK, as we see it.
The $2,000 milestone is truly psychological. When gold hit $1,000 for the FIRST TIME, it soared by 90% in just months, afterwards.
You either believe this is an INSANE BULL MARKET in precious metals, or you don't.
It's the same with GENERAL EQUITIES; we get asked all the time how we keep being bullish on stocks, even when seeing charts like these:
They ask if WealthResearchGroup.com doesn't see the CRAZY DEBT LEVELS, the lousy jobs market, the wealth gap, the rise of populism around the globe, and the FAKE ECONOMY – fueled by the Federal Reserve and other major central banks – BUT WE DO!
In fact, when I say that I've personally saved the equivalent of 24 months' worth of FAMILY-UNIT SPENDING and converted it to precious metals, the reaction I usually get is that most people can't save 90 days' worth of spending, let alone TWO YEARS. It's as if saving that much antagonizes people, who haven't, while my purpose is to share this and inspire others to do the same.
The message is that since the savings bucket is filled nicely, I can also have a healthy exposure to equities and to real estate. Look at the AMOUNT OF PURCHASING POWER that is outlined here, when accounting for all of the monthly cash burn pace, including rent, food, automobiles, outings… (the whole nine yards, basically). That's A LOT of precious metals!
Theoretically, if the family unit spends $4,000/month, it's translated into $96,000, converted into precious metals. If every person on the planet did that, or even HALF OF THAT, they wouldn't be walking around all day with the fear that the NATIONAL DEBT is going to wipe them out!
They also wouldn't be TOO TIMID to invest in general equities. We published THIS in March, for example, but the companies here are all up more than +30%, with the BEST-PERFORMER close to hitting a DOUBLE, so one had to HAVE COURAGE to buy at the depths of panic. Our inbox was flooded in March with people predicting the Dow Jones hitting 10,000 points and the S&P 500 going to 2,000 points, but waiting for that IMAGINARY BOTTOM (arbitrary) just because some gloom and doomer was bold enough to forecast it DOESN'T MAKE IT A REALITY!
Daily, I still hear voices online, who are HIGHLY POPULAR and get a wild amount of views and shares, calling for -80% crashes and all kinds of end-of-world scenarios – even though, if they traded what they preach, they WOULD BE HOMELESS and broke TODAY.
After the MARCH PANIC was done and the MAD RALLY commenced, we were convinced there was MORE TO COME and, in late May, we published THIS.
Again, SERIOUS DOUBTERS didn't let go of their cash and disregarded this report, yet it's FILLED WITH GOODIES, including a +52% gain in a little-known industry dominator.
The prices of these stocks are FAR HIGHER than in the reports and we don't believe we'll see these securities trade that cheap for years.
In July, we came up with our THIRD ONE and in late August, we publicized our TECH ONE. We even called them the last great buying opportunities and, SURE ENOUGH, a month after they were published, indices were at all-time highs!
When you own 24 months' worth of spending in precious metals, you'll have a different perspective of risk!
That's the BOTTOM LINE and you'll be able to participate in the wave of innovation that's sweeping the planet.