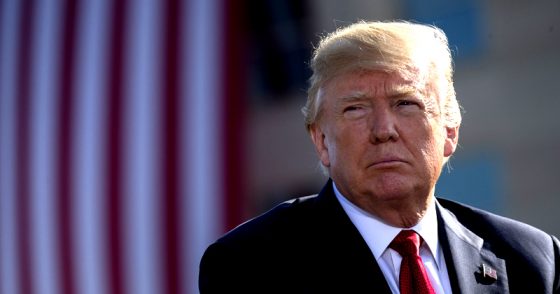 Yesterday, a senior Trump administration official published an anonymous Op-Ed in the New York Times titled: I Am Part of the Resistance Inside the Trump Administration.
"I work for the president but like-minded colleagues and I have vowed to thwart parts of his agenda and his worst inclinations," the article begins.
The Op-Ed is prefaced with this note:
The Times today is taking the rare step of publishing an anonymous Op-Ed essay. We have done so at the request of the author, a senior official in the Trump administration whose identity is known to us and whose job would be jeopardized by its disclosure. We believe publishing this essay anonymously is the only way to deliver an important perspective to our readers. We invite you to submit a question about the essay or our vetting process here.
Here are a few select excerpts from the piece (which can be read in its entirety here).
From the opening:
President Trump is facing a test to his presidency unlike any faced by a modern American leader.

It's not just that the special counsel looms large. Or that the country is bitterly divided over Mr. Trump's leadership. Or even that his party might well lose the House to an opposition hellbent on his downfall.

The dilemma — which he does not fully grasp — is that many of the senior officials in his own administration are working diligently from within to frustrate parts of his agenda and his worst inclinations.

I would know. I am one of them.
The writer goes on to say that this "resistance" is not the same as that of the Left. He/she claims that they want Trump's administration to succeed…
But we believe our first duty is to this country, and the president continues to act in a manner that is detrimental to the health of our republic.

That is why many Trump appointees have vowed to do what we can to preserve our democratic institutions while thwarting Mr. Trump's more misguided impulses until he is out of office.
Then, the Op-Ed's author goes on to say that at the root of the problem is "the president's amorality":
Anyone who works with him knows he is not moored to any discernible first principles that guide his decision making.

Although he was elected as a Republican, the president shows little affinity for ideals long espoused by conservatives: free minds, free markets and free people. At best, he has invoked these ideals in scripted settings. At worst, he has attacked them outright.

In addition to his mass-marketing of the notion that the press is the "enemy of the people," President Trump's impulses are generally anti-trade and anti-democratic.
Trump's leadership style is "impetuous, adversarial, petty and ineffective," according to the piece:
From the White House to executive branch departments and agencies, senior officials will privately admit their daily disbelief at the commander in chief's comments and actions. Most are working to insulate their operations from his whims.

Meetings with him veer off topic and off the rails, he engages in repetitive rants, and his impulsiveness results in half-baked, ill-informed and occasionally reckless decisions that have to be walked back.

"There is literally no telling whether he might change his mind from one minute to the next," a top official complained to me recently, exasperated by an Oval Office meeting at which the president flip-flopped on a major policy decision he'd made only a week earlier.
Russia is mentioned, of course:
On Russia, for instance, the president was reluctant to expel so many of Mr. Putin's spies as punishment for the poisoning of a former Russian spy in Britain. He complained for weeks about senior staff members letting him get boxed into further confrontation with Russia, and he expressed frustration that the United States continued to impose sanctions on the country for its malign behavior. But his national security team knew better — such actions had to be taken, to hold Moscow accountable.

This isn't the work of the so-called deep state. It's the work of the steady state.
It appears that the Leftist resistance isn't the only one that likes the idea of Trump being removed from office:
Given the instability many witnessed, there were early whispers within the cabinet of invoking the 25th Amendment, which would start a complex process for removing the president. But no one wanted to precipitate a constitutional crisis. So we will do what we can to steer the administration in the right direction until — one way or another — it's over.

The bigger concern is not what Mr. Trump has done to the presidency but rather what we as a nation have allowed him to do to us. We have sunk low with him and allowed our discourse to be stripped of civility.
So, who wrote this Op-Ed? There's a lot of speculation about that. Some believe the author is none other than Vice President Mike Pence, in part because of the use of the word "lodestar" in the piece:
We may no longer have Senator McCain. But we will always have his example — a lodestar for restoring honor to public life and our national dialogue. Mr. Trump may fear such honorable men, but we should revere them.
Indeed, "lodestar" is an unusual word – one that Pence uses often:
Here's Pence saying #Lodestar eight times, going back to 2001. I'm just saying! pic.twitter.com/oWWtngCgpK

— Tommy Christopher (@tommyxtopher) September 6, 2018
It is possible that the Op-Ed's author is not Pence and used the word intentionally to make the VP a suspect.
Jarrod Agen, Director of Communications for Vice President Mike Pence, said that his boss did not pen the Op-Ed:
The Vice President puts his name on his Op-Eds. The @nytimes should be ashamed and so should the person who wrote the false, illogical, and gutless op-ed. Our office is above such amateur acts.

— Jarrod Agen (@VPComDir) September 6, 2018
Others have suggested the use of another phrase hints that Homeland Security Secretary Kirstjen Nielsen is the author:
Don't get me wrong. There are bright spots that the near-ceaseless negative coverage of the administration fails to capture: effective deregulation, historic tax reform, a more robust military and more.
Nielsen has used the phrase "Don't get me wrong" in more than one instance.
We may never know who wrote the piece, and perhaps guessing is futile, as Dara Lind suggests in an article for Vox:
We don't know how many rounds of edits Times editors went through with the op-ed author, and anyone who's been edited can tell you that after even a moderate edit the prose doesn't necessarily read "like you."

The term 'senior official" is pretty elastic; the term "Trump administration" is even more so. It could refer to someone in the White House or at any of the executive-branch agencies.
CNN has posted a list of possible authors. The list includes:
Don McGahn, White House counsel
Dan Coats, Director of National Intelligence
Kellyanne Conway
John Kelly
Kirstjen Nielsen
Jeff Sessions (this actually makes a LOT of sense, considering the tension between him and Trump)
James Mattis
Fiona Hill (a Russian expert who joined the Trump administration from the Brookings Institution)
Mike Pence
Nikki Haley
"Javanka" – Jared Kushner and Ivanka Trump
Melania Trump
This morning, Zero Hedge reported that "Mike Pence is the bookies' favorite named insider to be the 'gutless' wretch who wrote the 'reckless' anonymous NYTimes op-ed from inside the 'resistance' with 2-to-3 odds according to MyBookie website."
"What tipped us off was 'lodestar,''"MyBookie head oddsmaker David Strauss said of Pence.

"When you search members of the administration (who have used that word) only one name comes up – and that name is Mike Pence. He's used in multiple speeches this year."
"Hours after MyBookie posted numbers, Canada-based Bovada issued its own Trump-leak odds and listed embattled AG Sessions as its favorite at 5-to-2," writes Zero Hedge.
Not one to remain silent – especially when facing criticism – Trump posted the following Tweet yesterday afternoon:
TREASON?

— Donald J. Trump (@realDonaldTrump) September 5, 2018
Sen. Lindsey Graham (R-SC) told CNN (the credibility of both Graham and CNN are questionable, I know, but Graham appears to be correct here) that the Op-Ed is NOT treason:
Lindsey Graham just responded to Trump's treason tweet on CNN: "This is not treason under the Constitution."

— Kyle Griffin (@kylegriffin1) September 5, 2018
Of course, the "treason" Tweet was not the only one Trump posted about the Op-Ed:
The Failing New York Times! pic.twitter.com/SHsXvYKpBf

— Donald J. Trump (@realDonaldTrump) September 5, 2018
Does the so-called "Senior Administration Official" really exist, or is it just the Failing New York Times with another phony source? If the GUTLESS anonymous person does indeed exist, the Times must, for National Security purposes, turn him/her over to government at once!

— Donald J. Trump (@realDonaldTrump) September 5, 2018
I'm draining the Swamp, and the Swamp is trying to fight back. Don't worry, we will win!

— Donald J. Trump (@realDonaldTrump) September 6, 2018
The Deep State and the Left, and their vehicle, the Fake News Media, are going Crazy – & they don't know what to do. The Economy is booming like never before, Jobs are at Historic Highs, soon TWO Supreme Court Justices & maybe Declassification to find Additional Corruption. Wow!

— Donald J. Trump (@realDonaldTrump) September 6, 2018
Meanwhile, Glenn Greenwald – the Pulitzer Prize winning co-founder of The Intercept, called the author of the Op-Ed a "coward" whose ideological issues "voters didn't ratify."
The irony in the op-ed from the NYT's anonymous WH coward is glaring and massive: s/he accuses Trump of being "anti-democratic" while boasting of membership in an unelected cabal that covertly imposes their own ideology with zero democratic accountability, mandate or transparency

— Glenn Greenwald (@ggreenwald) September 5, 2018
Who do YOU think wrote the Op-Ed?