This report was originally filed by the Super Station 95 Newsroom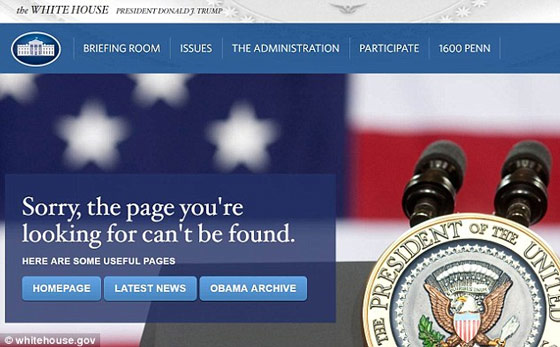 (Screenshot: The new White House website has only an error message where the Obama administration's Spanish content used to be)
White House English-only website as Team Trump Deletes all Spanish-language content
By Super Station 95
The new whitehouse.gov web site has no Spanish-language content. Visiting the old White House website address for content 'en Español' brings Web surfers to an error page.
The newly minted president made a point during the Republican primary season of his preference for immigrants to learn English, mocking former Florida Gov. Jeb Bush for speaking Spanish on the campaign trail.
'We have a country where to assimilate, you have to speak English,' Trump declared during a September 2015 debate.
'We have to have assimilation to have a country,' Trump added. 'We have to have assimilation. … This is a country where we speak English, not Spanish.'
Then-candidate Trump told ABC News weeks earlier that 'while we're in this nation, we should be speaking English.'
Trump uttered only Spanish word during the 23 debates and televised forums in which he participated, and it didn't help him.
'We have some bad hombres here, and we're gonna get 'em out,' he said in an October debate with Hillary Clinton, referring to illegal immigrants who remained in the United States despite convictions for violent crimes.
The chairman and CEO of U.S. English, the nation's most vocal advocate of making English the official language of the United States, told DailyMail.com that the Trump administration shouldn't give Spanish-speakers any special dispensation.
'Maybe if they're going to do it in Spanish, they should also use all 323 languages spoken in the United States, right?' asked Mauro Mujica. 'Why just one and not the other 322?'
This report was originally filed by the Super Station 95 Newsroom