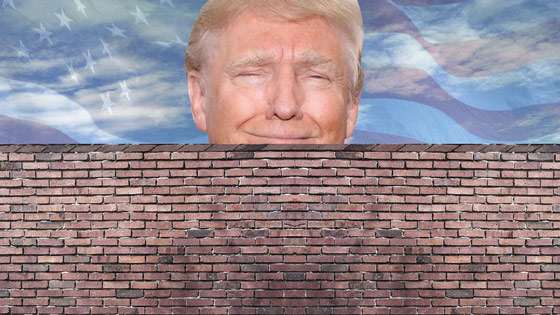 President Donald Trump has threatened to shut down the United States – Mexico border, even for trade. In a tweet sent out Friday, Trump said he'd shut down the border if Mexico refuses to tackle the illegal immigration issue he's made a cornerstone of his presidency.
Trade problems have already hit Americans right in their wallets and Trump continues to threaten to make things worse.  In a series of tweets, the president made threats that will be a bit difficult to follow through with. And he started by throwing some shade at Democrats in typical U.S. political rhetoric.
https://twitter.com/realDonaldTrump/status/1111650176345800705
https://twitter.com/realDonaldTrump/status/1111653530316746752
https://twitter.com/realDonaldTrump/status/1111655194658508800
According to RT, shortly after issuing the inflammatory tweets, Trump confirmed to reporters that the border shutdown could affect "all trade," and that he would "keep it closed for a long time." The president added, "I'm not playing games, Mexico has to stop it," he added.  U.S. Customs and Border Protection Deputy Commissioner Robert Perez told CNN that "the entirety of the immigration system is absolutely overwhelmed," adding that it was essential to "work with our Mexican counterparts" to handle the issue.
Closing the border could make things even harder on those trying to enforce the already cumbersome immigration laws in effect and trade fights have already hurt the average American. Prices have gone up and layoffs have taken place as companies lose money thanks to the tariffs.  Additionally, it hasn't fixed the trade deficit with China Trump was concerned about. In fact,  it's made it worse. 
https://www.shtfplan.com/headline-news/more-trade-war-failures-us-trade-deficit-hits-highest-level-in-a-decade_12062018
Politicians on both sides of the aisle have been fairly quick to point the finger at each other. Especially after footage emerged of hundreds of migrants being housed under a bridge in El Paso due to the extremely crowded situation in detention facilities. Border Patrol Commissioner Kevin McAleenan announced earlier in the week that the agency had even begun to consider the "direct releases" of migrants that the government (U.S. taxpayer) is unable to provide for.
Trade has been a concern for over a year now, and with no end in sight, Trump could be making a massive mistake by further hampering free trade between nations and causing the costs of goods and services to continue to rise at a point when Americans can't afford it.