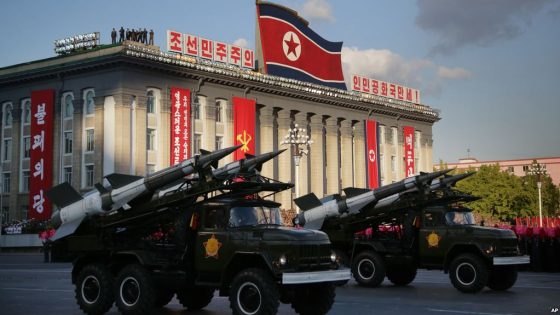 A new study is alleging that the North Korean regime is operating at least 13 secret ballistic missile sites. This could be a sign that Kim Jong-Un is not quite ready to de-nuclearize despite the decreased rhetoric in recent months.
Totalitarian North Korea is not winding down the country's nuclear program despite public promises made to the Trump administration. According to a report by USA Today, new research, conducted by the Washington-based Center for Strategic and International Security, has identified 13 of an estimated 20 North Korean missile operating bases that Kim's regime has not declared.
North Korea's highly publicized move to decommission a satellite launch facility gained a flurry of positive media attention, however, that move "obscures the military threat to U.S. forces and South Korea from this and other undeclared ballistic missile bases," the CSIS report concludes, according to USA Today. A State Department spokesperson did not address the new findings, but did say: "President Trump has made clear that should Chairman Kim follow through on his commitments –including complete denuclearization and the elimination of ballistic missile programs – a much brighter future lies ahead for North Korea and its people."
A spokesman for South Korean president's office, Kim Eui-kyeom, said that the information about a missile base profiled by CSIS was taken from commercial satellite imagery and that state intelligence agencies already had more in-depth information. "The U.S. already knows in much more detail using military satellites," Kim said. "And [South Korea is] watching closely, but there is nothing new."
Kim also said that the base, which is called Sakkanmol, was used for short-range missiles only, not intercontinental ballistic missiles (ICBMs), and that no agreement to dismantle it had been negotiated. "I do not think it is appropriate to call this a 'deception'," Kim said. "I think it further emphasizes the need for negotiations and dialogue, including North American dialogue, to get rid of these North Korean threats."
The new report's findings, which were first reported by the New York Times, emphasizes that the hidden bases are not launching facilities. However, they are "permanent facilities that contain a unit's headquarters, barracks, housing, support, maintenance, and storage facilities," the report says.
At the Singapore summit, Trump and Kim signed a vaguely worded agreement in which North Korea promised to work toward a "complete denuclearization of the Korean Peninsula." But the North Koreans have not few visible, concrete steps toward fulfilling that pledge.