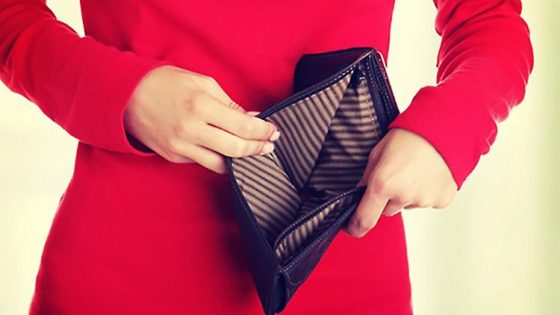 Even though the mainstream media is touting a strong and vibrant economy, most Americans are still feeling a financial pinch.  In fact, new data shows that roughly 40% of Americans could not even cover a $400 emergency expense.
Based on those numbers alone, those same Americans likely have very little in savings and live paycheck to paycheck. The new report from the Federal Reserve Board states that those who don't have the cash on hand say they'd have to cover it by borrowing the money or selling something.
The study was drawn from the Board's fifth annual Survey of Household Economics and Decisionmaking, which looks at the economic health of Americans. The survey of 12,000 people examined their income, employment, unexpected expenses, banking and credit, housing, education, and retirement planning in November and December 2017.
CNN Money reports that overall, the financial situation of American households has improved during the past five years, according to the Economic Well-Being of U.S. Households report. It shows that in 2017, 74% of adults reported feeling at least "okay" financially, an increase of 10 percentage points from the first survey four years earlier in 2013.  That's a slight improvement from the 50% who couldn't afford a $400 emergency in 2013.
The number has been ticking down each year since, but that's little comfort to those who make up the 40% of adults unable to cover emergency expenses. "This year's survey finds that rising levels of employment are translating into improved financial conditions for many but not all Americans," Federal Reserve Board Governor Lael Brainard said in a press release, "with one-third now reporting they are living comfortably and another 40% reporting they are doing okay financially."
But many are still struggling, and rather than sugarcoating the liberal policies that drive poverty, we prefer to just state the obvious. The wealth gap continues to widen in places where leftist-leaning and borderline communist policies are in place, such as California. Those with worthless college degrees that put them tens of thousands of dollars in debt are struggling to pay off those loans and often face tough financial decisions because of it.
"The finding that four-in-ten adults couldn't cover an unexpected $400 expense without selling something or borrowing money is troubling," said Greg McBride, the chief financial analyst at Bankrate.com. "Nothing is more fundamental to achieving financial stability than having savings that can be drawn upon when the unexpected occurs."
Compounding the issue is inflation. Prices are going up for everything while wages remain stagnant.  In places where wages were forcibly risen by law, poverty and homelessness jumped as people were laid off.  It also creates higher prices that the now unemployed simply cannot afford.  It's basic economics really, and the sooner the left realizes that the government's stranglehold on the economy is the problem, not the solution, we could have some real economic abundance in the United States.
Until then, nearly 51 million US households don't earn enough to cover basics like rent and food. That comes out to about 43% of American households.  Dozens of companies in recent weeks have said they already hiked prices or plan to in the coming months to combat inflation. Plus, the Federal Reserve is gradually raising interest rates, which will make auto loans and mortgages more expensive, not to mention push those already living paycheck to paycheck further down as they scramble to cover for the increase in their interest payments.
California, New Mexico, and Hawaii have the largest share of struggling families, at 49% each. North Dakota has the lowest at 32%.