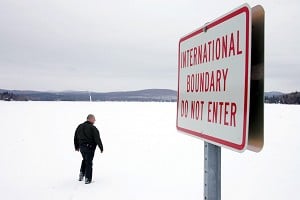 Amid the recent cancellation of a virtual fence on the southern Arizona-Mexico border that cost taxpayers an estimated $1 billion dollars and would have curbed the migration of some of the 400,000 to 1 million southern migrants yearly, the government is confident that, while they can't stop the illegal inflows from Mexico, they are prepared to effectively tackle the Canadian dilemma head on.
With all of the violence, drug smuggling, free health care, education vouchers, and black market jobs stemming from illegal crossings along the Canadian border, it only makes sense that the Department of Homeland Security and the U.S. Customs and Border Protection agency is preparing to invest billions of dollars to secure the 4000 mile long demarcation point that separates Canada from the United States.
The United States is looking at building fences along the border with Canada to help keep out terrorists and other criminals.

The U.S. Customs and Border Protection agency has proposed the use of "fencing and other barriers" on the 49th parallel to manage "trouble spots where passage of cross-border violators is difficult to control."

The border service is also pondering options including a beefed-up technological presence through increased use of radar, sensors, cameras, drones and vehicle scanners.

…

U.S. Homeland Security Secretary Janet Napolitano noted last month the challenges of monitoring the vast, sparsely populated northern border region. She stressed manpower, but also a greater reliance on technology.

…

Relatively speaking, Washington has focused more energy and resources on tightening security along the border with Mexico than at the sprawling one with Canada.

But that may be changing.

A U.S. Government Accountability Office report recently warned that only a small portion of the border with Canada is properly secure. It said U.S. border officers control just 50 kilometres of the 6,400-kilometre boundary.

…

…the agency would use fencing and other barriers such as trenches to control movement and sometimes delay people trying to sneak across the border, increasing the likelihood they could be caught, says the report.

It doesn't provide details about what the fences might look like, but suggests they would be designed to blend into the environment and "complement the natural landscape."

Source: The Canadian Press
Predator drones, camouflage fencing, and Janet Napolitano. It's on now.
Sorry Canada, we've had enough, and we're not going to take it any more.