CNN has released a new video reportedly showing a heated discussion between President Trump and his closest aides in the Oval Office last Friday, just a few hours before the President said on Twitter that his predecessor Barack Obama was utilizing electronic surveillance to monitor the Trump campaign staff ahead of the election.
The spy video, likely recorded with a telephoto lens from a distance, shows President Trump, chief strategist Steve Bannon, Chief of Staff Reince Priebus, his son-in-law Jared Kushner, and his daughter Ivanka discussing the fall-out from accusations that Attorney General Jeff Sessions met with Russian officials.
According to Newmax founder and Trump confidante Christopher Ruddy, the video may show the very meeting Ruddy referenced when he said over the weekend that he had never seen the President "this pissed off."

(Alternate Youtube video link)
Though no audio is available, we have no doubt that investigative journalists at mainstream networks are feverishly contacting lip-reading experts to help translate the private Oval Office meeting.
As an interesting sidenote – and this may be because we're not as net savvy as others out there – we do not recall a time that CNN or other alphabet networks ever released similar videos of private Oval Office meetings being held by their beloved President Barack Obama. A precursory Google search for the phrase "Obama Oval Office Video" shows scores of results of President Obama in approved Oval Office videos and walking outside of the Oval Office, but nothing as intimate as the video just released by CNN. Curiously, the aforementioned search query shows a result for Trump's private oval office meeting.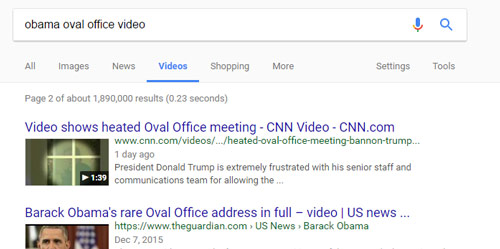 Also See: Mark Levin Delivers DEVASTATING PROOF That Obama Spied On Trump Campaign: "The Evidence Is Overwhelming…Six Federal Agencies Involved"