Now may be the best time to buy a home. At least that's what the majority of real estate agents in America will tell you if you ask them how the housing market is doing.
They'll cite various statistics and give you a "feel" for the market from their personal experiences to convince you this is the case. But if you're paying attention, then it should be clear that there is, in fact, no recovery in the housing sector. And any gains we may have seen over the last few years are nothing short of a Federal Reserve fueled mirage, much like the stock market.
The following chart from Bank of America is indicative of some serious fundamental problems, not just with the housing market, but the broader economy as a whole.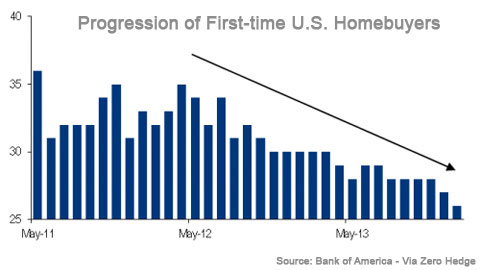 If you ask the experts they'll give a host of reasons for why sales are down, as well as prognostications for why the real estate market is about to turn the corner and head back to new highs.
The weather, of course, is always to blame for lackluster sales in homes and consumer products, and that, apparently, is the case once again. But the National Association of Realtors has, for the first time ever, indicated that there is another key challenge facing home buyers.
Student debt appears to be a factor in the weak level of first-time buyers.

"The biggest problems for first-time buyers are tight credit and limited inventory in the lower price ranges," he said. "However, 20 percent of buyers under the age of 33, the prime group of first-time buyers, delayed their purchase because of outstanding debt. In our recent consumer survey, 56 percent of younger buyers who took longer to save for a downpayment identified student debt as the biggest obstacle."

Brown notes the survey results are for recent homebuyers. "It's clear there are other people who would like to buy a home that are not in the market because of debt issues, so we can expect a lingering impact of delayed home buying," Brown added.

NAR via Zero Hedge
In short, we're broke as a nation and we're broke as individuals.
A recent micro documentary that discussed America's College Debt Bubble in detail predicted that we would soon begin seeing the fall out from trillion dollar student loans. Apparently, that fall out has already begun.
But not to worry, because housing experts indicate that we may soon see home sales and prices start to rise, an effect that will be fueled by more jobs and rising incomes:
"Going forward it will take sustainable job and income growth to propel would-be-homebuyers back into the market. But with the labor market uneven at best, it may take some time before the housing industry regains the momentum seen earlier last year."
As you have probably deduced, there's one key problem here. There is no job growth. And, any income growth already has inflation priced right in, so purchasing power will not increase and is likely to actually decrease because the rate of inflation is outpacing what Americans are being paid.
Thus, if we are awaiting a real estate recovery and the necessary steps for such a recovery require an improvement in the jobs market then you can forget about it.
The housing market is the pulse of our nation. It was the trigger event for the collapse of 2008, and it looks like it is now indicating what many of us already know: that we are in the midst of another recession within a broader depressionary trend.
Couple this with the Federal Reserve now indicating that they are pulling back on $85 billion in monthly market stimulus, and you can probably guess where this is headed next.
Welcome to Round 2.