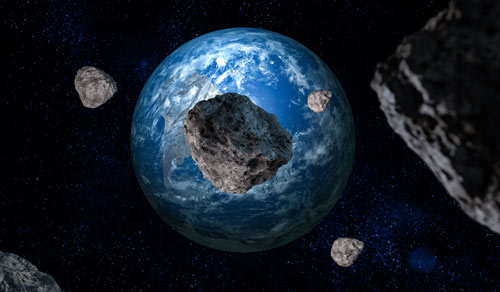 NASA and FEMA teamed up back in 2016 to conduct some "asteroid impact" drills.  While this may seem like it's not a big deal, take a moment, and remember Event 201 – the elitists "plan" to create the coronavirus plandemic to roll out the New World Order.
In 2016, NASA and FEMA created a plan for an asteroid impact to take place on September 20, 2020. This event could be considered the second 9/11 if it happens. Remember, Event 201 predicted not only the coronavirus pandemic, but the totalitarian takeover in the aftermath.
"It is critical to exercise these kinds of low-probability but high-consequence disaster scenarios," FEMA Administrator Craig Fugate said. "By working through our emergency response plans now, we will be better prepared if and when we need to respond to such an event."

Exercise attendees included representatives from NASA, FEMA, NASA's Jet Propulsion Laboratory, the Department of Energy's National Laboratories, the U.S. Air Force, and the California Governor's Office of Emergency Services.

The exercise simulated a possible impact four years from now — a fictitious asteroid imagined to have been discovered this fall with a 2 percent probability of impact with Earth on Sept. 20, 2020. The simulated asteroid was initially estimated to be between 300 and 800 feet (100 and 250 meters) in size, with a possibility of making impact anywhere along a long swath of Earth, including a narrow band of area that crossed the entire United States. –NASA
Please DO NOT forget Event 201, which reads:
The Johns Hopkins Center for Health Security in partnership with the World Economic Forum and the Bill and Melinda Gates Foundation hosted Event 201, a high-level pandemic exercise on October 18, 2019, in New York, NY. The exercise illustrated areas where public/private partnerships will be necessary during the response to a severe pandemic in order to diminish large-scale economic and societal consequences.

A severe pandemic, which becomes "Event 201," would require reliable cooperation among several industries, national governments, and key international institutions. –Center for Health Security
NASA provides expert input to FEMA about the asteroid impact hazard through the Planetary Defense Coordination Office. NASA and FEMA will continue to conduct asteroid impact exercises and intend to expand participation in future exercises to include additional representatives from local and state emergency management agencies and the private sector.
These drills often have an uncanny way of becoming our reality. Is this predictive programming? A warning as to what the elitists are going to do to us next? Or an innocent government-sponsored drill? I'd say, based on current events, the third, is far less likely than the other two.