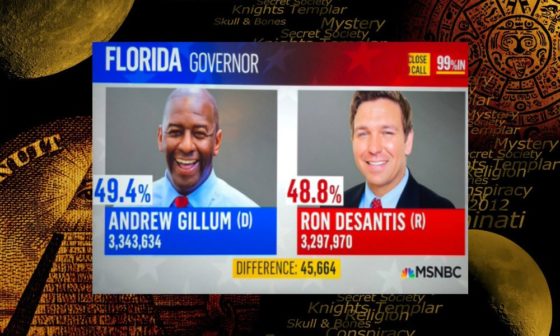 MSNBC has just made a disastrous error that should force everyone to reevaluate just how much trust they are placing in the mainstream media. The propaganda news outlet put up and image of the Florida voter count for a hotly contested gubernatorial race the evening before the elections.
The news network attempted to calm those who had seen it by stating that the image was nothing more than some test numbers and they were just as confused as the regular public.
"Quick clarification here," a rather embarrassed All In host Chris Hayes told viewers, according to Deadline. "Just want to say, earlier this hour, uh, we showed a graphic of the Florida gubernatorial race. May have caught your eye because our system had inadvertently populated some test numbers. Obviously, we do not yet have any vote totals here, the night before the election. That was a misfire. Don't worry. I was pretty confused when I saw it up there, to see it myself."
Of course, this obviously begs the question: is this race rigged? Or was it really just a test run and an accident?  Judging by the lack of trustworthiness inherent in the mainstream media, its difficult to believe anything they say. But we wholly believe that they are just stupid enough to put the rigged numbers up early.
It's the kind of goof that gets people concerned, however, and many will likely scream about it being fake news – which it obviously was, according to The Washington Times. Hopefully, the people who make these sorts of graphics at MSNBC will at least change the numbers on the graphic before actually announcing the winner.
Regardless of if the election is rigged or if this was just a test, it's certainly not the kind of gaffe that inspires any kind of trust in those who report the news. And let's be frank: this had nothing to do with a tweet of president Donald Trump's. MSNBC did this to themselves.