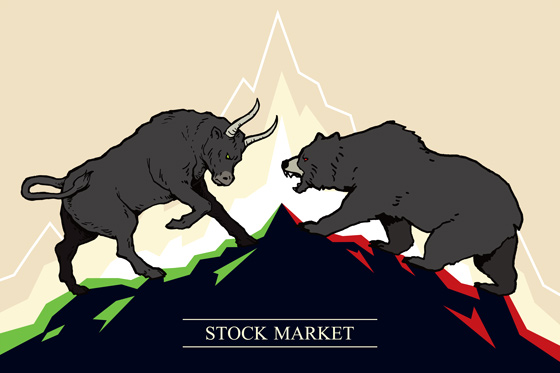 Even though the stock market is off to a healthy start in 2019, there's mounting evidence that a crash is still coming down the pipelines. The big red flag right now is investor behavior.  It suggests that investors are getting increasingly fearful of another market collapse.
Recently, Business Insider reported on four bearish signals that the economy has been flashing.  Just below the surface of a strong first quarter lie the warning bells that haven't stopped going off just yet. A close look at these four signs could also suggest that the current situation, with regards to the stock market, is quite a bit more horrifying than many might realize – or might want to realize.
The benchmark S&P 500 climbed more than 12% in the first quarter of 2019.  That's great news and a sign of a healthy and robust economy, right? Maybe, but maybe not.  When taking these four signals of a bearish economy into account, it could get ugly. If you haven't paid attention to the undercurrents brewing just below the market's surface, you might conclude that the future for stocks is perfectly golden.
All seems well as the market largely shrugged off the yield-curve inversion that sparked panic last week.  A strong March finish that can be, at least in part, attributed to investor optimism around the Federal Reserve's newly dovish monetary policy, as well as the prospect of a successful trade-war resolution, isn't necessarily a good thing.
"The risk-reward to owning US equities continues to remain unfavorable," Peter Cecchini, the global chief market strategist at Cantor Fitzgerald wrote in a recent client note. "We still do not believe the Fed's communication was dovish enough to offset its implicit bearishness on economic fundamentals."
And here's the breakdown:
1. Massive equity outflows so far in 2019
This is perhaps the most directly damning statistic supporting the idea that the current stock rally is vulnerable.  The amount of money that's been taken from equity funds so far this year is pretty high. Investors have pulled a whopping $79 billion from stocks worldwide in 2019.
2. Short interest on an S&P 500-linked Exchange Traded Fund (ETF) has spiked
Short interest is a measure of bets that a security will fall. And short interest has spiked in the SPDR S&P 500 ETF, which is designed to track the US equity benchmark. The measure reached 6.7% of shares outstanding earlier this month, the highest since at least 2016, according to data compiled by IHS Markit. This suggests increasing insecurity in the stock market.
3. The cost to hedge the S&P 500 ETF has soared
Traders are paying to protect themselves against a 10% decline in the SPDR S&P 500 ETF over the next two months, relative to bets on a 10% increase. This shows investors are more fearful of losing out than of earning
4. Bets on the volatility index (VIX) increase have ballooned
Wagers that the VIX would increase spiked during a five-day period ended March 25.
These four signals show investors are fearful in this current stock market landscape that has been painted quite beautifully.