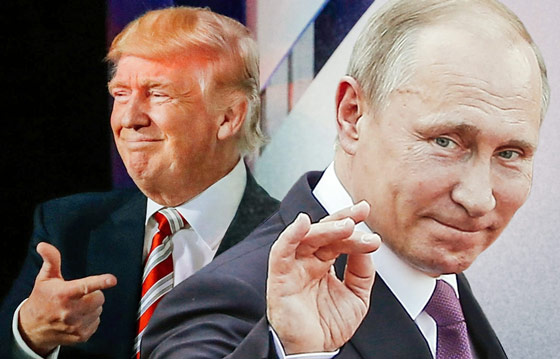 As many of us prepare for the worst, a brutal war with Russia and Syria, Moscow has responded to president Donald Trump's declaration that he will strike Syria with "smart missiles."  A Russian spokeswoman has responded with a rhetorical question asking if the "smart missiles" are being sent to destroy any evidence of this false chemical attack.
After eight years of Obama drone bombing people across the globe, Americans have grown war-weary. But our "leaders" don't seem to care, knowing a war won't impact them the way it will impact us. "Smart missiles should fly towards terrorists, not [Syria's] lawful government, which has spent several years fighting against international terrorism on its territory," Russian Foreign Ministry spokesperson Maria Zakharova said in response to Trump's tweet on Wednesday.
Zakharova accused the US of attempting to cover up the evidence that this chemical attack was staged. "Are the OPCW inspectors aware that smart missiles are about to destroy all evidence of the chemical weapons use on the ground? Or is that the actual plan – to cover up all evidence of this fabricated attack with smart missile strikes, so that international inspectors had no evidence to look for?" Zakharova asked.
Trump's "smart missile" threat is on the heels of the remarks made by Russia's ambassador to Lebanon, Alexander Zasypkin, who said Russian troops deployed in Syria have legal grounds to shoot down any American missiles attacking targets there, and may do so in case of an attack.
The public suggestion of US military confrontation with Russia is sure to raise tensions in an already volatile situation. Trump said earlier this month, before the weekend's suspected chemical attack on civilians at the hands of the Assad regime, that he wanted to withdraw US troops from Syria.
So why would the winner of the war use chemicals on their own people? Bashar al-Assad won and he must know that using chemical weapons would force the US to retaliate reigniting a war. The reason this is being called a false flag by many is not only because there's no evidence, but because it is the only thing that makes sense.  The media's narrative is falling apart, but it won't matter if we end up in World War 3 because of a fabrication.
What a horrifying time to be alive, when you think about it.  One person, thousands of miles away from you has the ability to push a button and end it all.
War is nothing to enter into lightly.  Yet it appears, for all intents and purposes, that that is exactly what is happening.