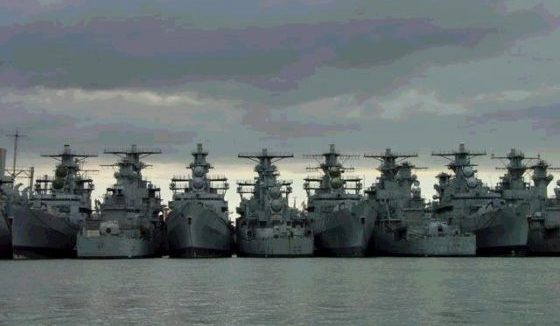 In a new report, United States Secretary of the Interior Ryan Zinke suggested the US could use the Navy to block Russian energy from hitting Middle East markets. But the head of the Russian Senate's Information Policy Committee, Aleksey Pushkov, said that act would mean "war" with the US.
Zinke appeared to be concerned that the real reason behind Russia's involvement in Syria is trade expansion. Pushokov said that that is "absolute nonsense," according to Russia Today. The idea that Russia could potentially supply energy to the Middle East, which is literally "oozing with oil," is absolutely detached from reality, Pushkov said.  Russia does not supply any energy to the region, which is itself a major oil exporter and has never announced any plans to do so.
The Russian senator added that Zinke's statement is "on par" with Sarah Palin's claim that she was qualified to talk about Russia since "they're our next-door neighbors, and you can actually see Russia here from Alaska." The former Alaska governor made the statement in an interview when she was the Republican vice-presidential candidate in the 2008 US election. -RT
Attempts to exert further pressure on Russia "are not going to end in anything good," a member of the Russian Senate's Defense and Security Committee, Franz Klintsevich, told journalists, according to RT. Klintsevich added that these attempts would lead "to a major scandal" at the very least, and Washington "should clearly understand it."
The Trump administration has been seeking to replace Russia as Europe's gas supplier by boosting exports of its liquefied natural gas, even though Russian gas is a cheaper option for Europe. The Trump Administration is also going to have a tough time convincing countries to do more business with them in light of an economically disastrous trade war and ever-increasing tariffs on imported goods. 
US officials, including President Donald Trump himself, have repeatedly pressed Germany to pull out of the "inappropriate" Nord Stream 2 pipeline project, which is set to double Russia's natural gas transport capacity to 110 billion cubic meters. While Moscow has stated more than once that it is a purely economic project, Trump claims it will make Germany a "captive" of Russia.
The US isn't stopping at attempting to hamper Russia's energy trade efforts either. It has also threatened to impose sanctions on countries buying Russian arms in what could be another example of competition between the two nations. These efforts, however, would appear to be in vain as well.
Most recently, India cleared the way for the purchase of Russian frigates and air defense systems. Turkey also defied threats from the US and said it does not need anyone's permission to buy Russia's S-400 missile systems. Even close US ally Saudi Arabia is now in talks with Russia to purchase the same defense systems. Moscow has repeatedly denounced US attempts to hamper its trade under various pretexts as unfair competition. -RT
The US is currently fighting a battle it doesn't look like they can win. As nations continue to thumb their noses at sanctions as nothing more than ink on paper, and Washington seeks to use a trade war as a way to punish already cash-strapped Americans, the US struggles to hold onto any power at all, grasping for straws.