Morgan Stanley has just told their investors that the market is flashing an indicator of a downturn.  They suggested playing defense as this historical downturn marker has often led to lower returns. When the bank says "play defense," we suggest prepping for the worst.
If Wall Street is preparing for a recession, the rest of us should be too.  We are not shielded from the moves in the stock market or the policies of governments, unfortunately. Morgan Stanley's cross-assets team, who says their cyclical indicator has flipped to "downturn" from "expansion," a shift that has historically led to weaker returns for stocks and other risky assets, along with an elevated chance of a recession, according to a report by Market Watch. In a note dated on Sunday, the bank advised market participants to go on the defensive, eschewing U.S. stocks for the safety of Treasurys and cash.
Financial preparedness for the rest of should now take a front seat as well. Although there is likely still time before the next recession, it would be wise to get your financial house in order now while, as the mainstream media puts it "times are good" and we have a "robust economy."
"With U.S. data still above-average but deteriorating, our cycle indicator has shifted out of 'expansion' to 'downturn' for the first time since 2007," wrote Serena Tang, a cross-asset strategist, adding that its downturn phase indicates when the improvement in economic data has started to slow or weaken outright. "With the cycle indicator in 'downturn', together with still-rich valuations and increasing uncertainties about trade tensions, we reiterate our call for a defensive stance," wrote Tang.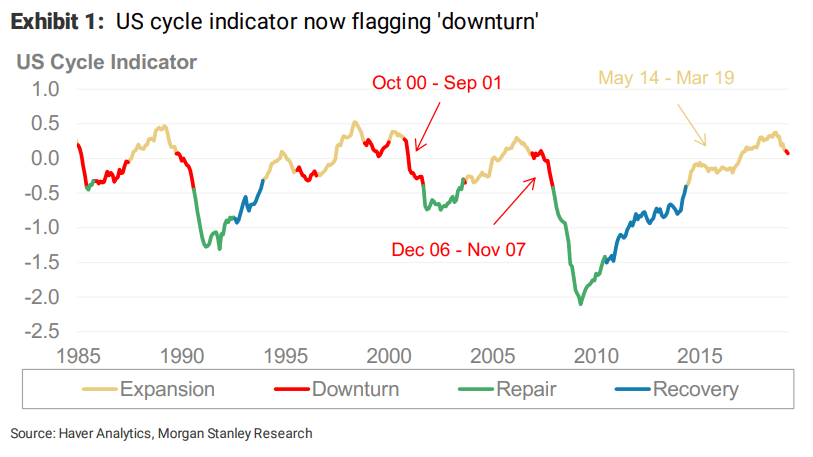 Morgan Stanley's cyclical indicator aggregates economic and financial markets data, including the yield curve's slope, consumer confidence, and debt issuance. In particular, credit issuance, consumer confidence, and manufacturing gauges have started to soften in recent months.
This all points to a recession in perhaps around one year from now.  That gives us some time, even though no one can say for certain when the next recession will officially begin.  This indicator last flashed in 2006 when investors were still making gains, and the Great Recession had not fully taken hold of the U.S. economy.