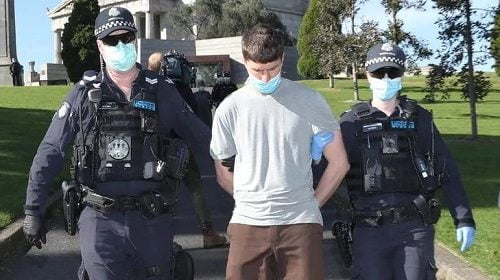 The police state is descending rapidly upon Australia. More troops will be deployed to the streets to enforce the tyrannical and draconian control of the slaves after one case of COVID-19 pops up.
Lockdown violators will be facing a mounting police state and utter enslavement as the ruling class rolls out their hired thugs to keep people from violating its dictates.
Another three Sydney areas were placed under a strict lockdown on Thursday. New South Wales Premier Gladys Berejiklian said the extension of the measures is necessary despite the fact that "some (of the areas) only had one case overnight," insisting that restricting movement is nevertheless necessary to "stop the front of the spread moving forward." The total number of districts living under the sweeping restrictions is now at 12.
And why the advancement of the totalitarian police state? One case of COVID-19.
Sydney's "outbreak" (if it can even be called that) has also been linked to the first local case of the virus in the Australian Capital Territory (ACT) in more than a year. The patient is reported to be a man in his 20s. The case triggered a snap one-week lockdown for the whole of Canberra, with ACT Chief Minister Andrew Barr calling it "the most serious public health risk" the area has faced in a year. The lockdown resulted in the closure of schools, except for the children of essential workers.
This "outbreak" is being blamed on "lockdown violators." "Just this week we saw a person travel out to Parkes without a reasonable excuse," SW Police Deputy Commissioner Mick Willing said. Oh, the horror! People being free and knowing they don't need permission from other people to do be free!
In order to bring those defying the lockdown rules into line, Berejiklian said she expects the state police commissioner to request more military assistance in patrolling the near-empty streets.

"We are ensuring that no stone is left unturned," the premier said. The spokesperson for Defense Minister Peter Dutton confirmed to Reuters that government officials indicated they would soon file a formal request for more troops. –RT
These lockdowns are not designed to end. Anyone who thinks they will end is living in delusion. It's time to wake up and figure it out. This is coming here unless we get enough people to realize what's happening to them.  We cannot abolish slavery if most of the slaves still think they are free.