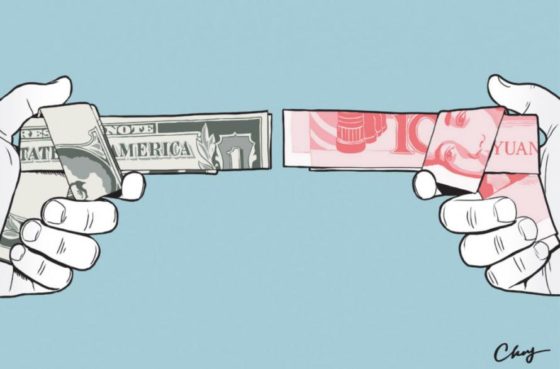 The United States trade deficit reached $55.5 billion in October which is the highest level in a decade. Imports rose 0.2% to $266.5 billion and exports fell 0.1% to $211 billion, marking yet another failure of the U.S.'s trade war.
U.S. President Donald Trump has made the trade deficit a signature grievance of both his campaign and presidency.  The president has kickstarted a trade war by slapping tariffs on aluminum, steel, and $250 billion worth of Chinese goods. But the latest figures from the Commerce Department show the deficit with China has actually risen 7.1% to a record $43.1 billion, with U.S. soybean exports to China dropping 46.8% as a result of retaliatory tariffs.
The trade gap, something Trump had vowed to balance, has now widened for five straight months. Data for September was revised to show the deficit rising to $54.6 billion instead of the previously reported $54.0 billion.  The trade war has been an utter failure in every aspect, especially considering the main goal was to decrease the trade deficit.
Last Saturday, Trump and Chinese President Xi Jinping agreed to hold off on imposing more tariffs for 90 days while they negotiate a deal to end the trade dispute.  The news caused a one day surge in the stock market, however, the confidence in both governments was quickly lost, as the market continues to drop.
The increasing trade deficit suggests that this issue will probably be a drag on the gross domestic product in the fourth quarter, and further adds to a weak housing market and business spending on equipment reports in signaling a slowing down in economic growth. Trade subtracted 1.91 percentage points from GDP growth in the July-September quarter.
There are plenty of signs that the economy is on life support.  If you have not yet started to prepare for the high likelihood that we will be flung into another depression, now is the time to consider prepping.  We suggest beginning by reading The Prepper's Blueprint, by Tess Pennington.  The book is expertly laid out and is an excellent resource for those who have just begun their journey of preparedness.