This article was originally published by John W. Whitehead at The Rutherford Institute. 
"But these weren't the kind of monsters that had tentacles and rotting skin…they were monsters with human faces, in crisp uniforms, marching in lockstep, so banal you don't recognize them for what they are until it's too late." ― Ransom Riggs, Miss Peregrine's Home for Peculiar Children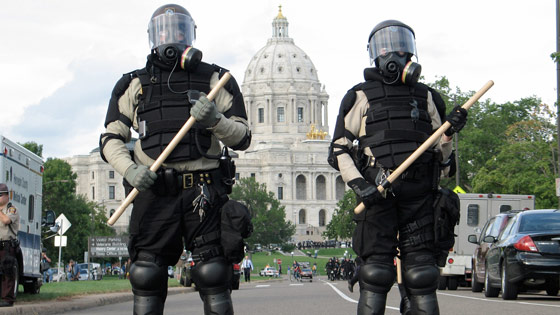 Enough already. Enough with the distractions. Enough with the partisan jousting. Enough with the sniping and name-calling and mud-slinging that do nothing to make this country safer or freer or more just. We have let the government's evil-doing, its abuses, power grabs, brutality, meanness, inhumanity, immorality, greed, corruption, debauchery, and tyranny go on for too long.
We are approaching a reckoning. This is the point, as the poet W. B. Yeats warned when things fall apart and anarchy is loosed upon the world.
We have seen this convergence before in Hitler's Germany, in Stalin's Russia, in Mussolini's Italy, and in Mao's China: the rise of strongmen and demagogues, the ascendency of profit-driven politics over deep-seated principles, the warring nationalism that seeks to divide and conquer, the callous disregard for basic human rights and dignity, and the silence of people who should know better.
Yet no matter how many times the world has been down this road before, we can't seem to avoid repeating the deadly mistakes of the past. This is not just playing out on a national and international scale. It is wreaking havoc at the most immediate level, as well, creating rifts and polarities within families and friends, neighborhoods and communities that keep the populace warring among themselves and incapable of presenting a united front in the face of the government's goose-stepping despotism.
We are definitely in desperate need of a populace that can stand united against the government's authoritarian tendencies.
Surely we can manage to find some common ground in the midst of the destructive, disrupting, diverting, discordant babble being beamed down at us by the powers-that-be?
Disagree all you want about healthcare, abortion, and immigration—hot-button issues that are guaranteed to stir up the masses, secure campaign contributions and turn political discourse into a circus free-for-all—but never forget that our power as a citizenry comes from our ability to agree and stand united on certain principles that should be non-negotiable.
For instance, the U.S. government is operating in the negative on every front. For the first time in the nation's history, it is expected that the federal deficit will surpass $1 trillion this year, not to mention the national debt which is approaching $23 trillion. Meanwhile, the nation's sorely neglected infrastructure—railroads, water pipelines, ports, dams, bridges, airports, and roads—is rapidly deteriorating.
No matter how we might differ about how the government allocates its spending, surely we can agree that the government's irresponsible spending, which has saddled us with insurmountable debt, is pushing the country to the edge of financial and physical ruin.
That's just one example of many that shows the extent to which the agents of the American police state are shredding the constitutional fabric of the nation, eclipsing the rights of the American people, and perverting basic standards of decency.
Let me give you a few more.
The U.S. military empire's determination to police the rest of the world, with more than 1.3 million U.S. troops being stationed at roughly 1000 military bases in over 150 countries, is bleeding the country dry at a rate of more than $15 billion a month (or $20 million an hour)—and that's just what the government spends on foreign wars.
No matter how we might differ about the role of the U.S. military in foreign affairs, surely we can agree that America's war spending and commitment to policing the rest of the world are bankrupting the nation and spreading our troops dangerously thin.
All of the imperial powers amassed by Barack Obama and George W. Bush were inherited by Donald Trump. These presidential powers—acquired through the use of executive orders, decrees, memorandums, proclamations, national security directives, and legislative signing statements and which can be activated by any sitting president—enable past, president and future presidents to operate above the law and beyond the reach of the Constitution.
Yet no matter how we might differ about how success or failure of past or present presidential administrations, surely we can agree that the president should not be empowered to act as an imperial dictator with permanent powers.
Increasingly, at home, we're facing an unbelievable show of force by government agents. For example, with alarming regularity, unarmed men, women, children and even pets are being gunned down by police officers who shoot first and ask questions later. Just recently, in fact, the 11th Circuit Court of Appeals cleared a cop who aimed for a family's dog (who showed no signs of aggression), missed, and instead shot a 10-year-old lying on the ground.
No matter how we might differ about where to draw that blue line of allegiance to the police state, surely we can agree that police shouldn't go around terrorizing and shooting innocent, unarmed children and adults or be absolved of wrongdoing for doing so.
At its core, this is not a debate about politics, or constitutionalism, or even tyranny disguised as law-and-order. This is a condemnation of the monsters with human faces that have infiltrated our government.
For too long now, the American people have rationalized turning a blind eye to all manner of government wrongdoing because they were the so-called lesser of two evils. Yet as I make clear in my book Battlefield America: The War on the American People, the unavoidable truth is that the government has become almost indistinguishable from the evil it claims to be fighting, whether that evil takes the form of terrorism, torture, drug trafficking, sex trafficking, murder, violence, theft, pornography, scientific experimentations or some other diabolical means of inflicting pain, suffering and servitude on humanity.
Therein lies the problem.
It's time to wake up and take a good, hard look around you. Start by recognizing evil and injustice and tyranny for what they are. Stop being apathetic. Stop being neutral. Stop being accomplices. Stop being distracted by the political theater staged by the Deep State: they want you watching the show while they manipulate things behind the scenes. Refuse to play politics with your principles.
Don't settle for the lesser of two evils.