Mounting foreclosures, job losses and debt are often cited as some of the main reasons why the US economy is in dire straits. After trillions of dollars spent and thousands of pages of new laws, the situation seems worse now than when the President took office.
While millions of Americans remain supportive of President Obama's abilities, a majority are beginning to suspect that the economy will like get much worse before it gets better.
In recent polls, Americans believe that the economy is the biggest problem facing the nation, with 52% of respondents saying that the President has not spent enough time working on the problem.
With the brightest minds at his disposal, the President, who is essentially the Chief Executive Officer of the corporation known as America, one would think we'd have the best of the best working on the fundamental economic problems in this country. And since growth economy is, for the most part, dependent on private sector performance and expansion, one might imagine that the President would have brought on experts from the private sector to serve in his cabinet.
Many may be surprised to learn, then, that the President's Cabinet has the worst private sector experience track record of any administration in the last hundred years: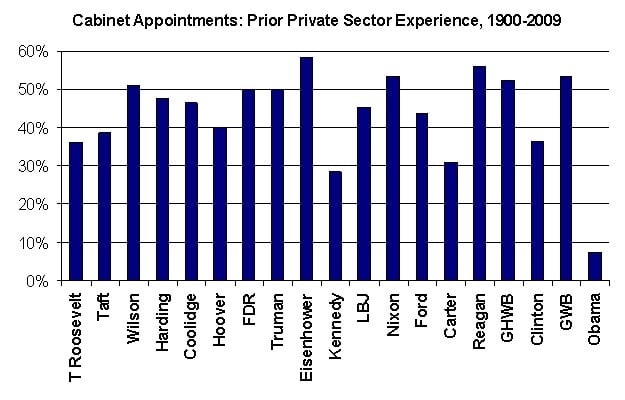 source: The American
A whopping 7% of the President's Cabinet has prior private sector experience. This economic dream team explains why the solutions being proposed by the White House heavily favor government intervention and cast small business and free market principles to the periphery. Even if they wanted to improve our economy, the ideological world view that the big government public sector is the only solution to the world's woes would not allow the President or his Cabinet to envision how a truly free market could put America back on the track to prosperity.
Neal Boortz sums up what our expectations should be going forward:
So … now you might have a better idea why Obama can't quite figure out how to grow jobs in the private sector. He's a big-government president with a big-government cabinet. When your cabinet is made up almost wholly of people with nothing but government experience with a sprinkling of academia behind them you have to know that the private sector is going to not only get short shrift .. but it's going to be pretty much abused or ignored. To Obama and his advisors the private sector exists to support and fund the federal government … and little more.

Welcome to the wonderful world of centrally planned economies.
If there was ever a misnomer, centrally planned economy would be it. A more appropriate description would be centrally mismanaged.