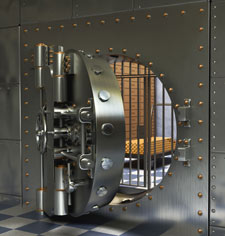 Last year, following an attempt to motivate the Commodities Futures Trading Commission into investigating rampant manipulation of gold and silver prices, the Chief Executive of one of the world's leading primary silver companies called on other producers to withhold precious metals from the market in an effort to stem the fraud. He recently reported that not a single producer contacted him to do so. But as precious metals prices fail to reflect the growing demand around the world, one company in particular is actively preparing to do exactly that.
MX Gold Corp CEO Akash Patel and CFO Kenneth Phillippe say that they are positioning their company to stockpile between 20% to 30% of their physical gold production in coming months, noting that prices are nowhere near where they should be at current supply and demand levels. In an interview with SGT Report, Phillipe appears to be taking the stance of many precious metals investors, which is to stockpile the physical asset in anticipation of any number of potentially cataclysmic economic and monetary events like the hyperinflation we are witnessing in Venezuela.
We want to pull out the physical gold… We want to take this gold and we want to store it. We believe that having the physical gold in the vault makes a lot more sense than selling it at these prices. Gold is ready to move. We believe it's going to continue to rise… we're going to be storing our gold and holding it for the long-term. 
This whole entire industry – the gold market – is fueled by the economies.

With the economies… the state that they are in right now… where they are continuously printing more money… This is why I understand most people would like to put gold into their portfolio… Because it's clear to me that people have to take precautions against the unknowable future.

We don't know what's going to happen tomorrow. We don't know if China is going to blow up. We don't know what's going to happen in the U.S. at any given time. They continuously keep printing.

…

We truly believe that people in the United States are not investing into T-bills… government paper is just not what people want at this point in time… gold is liquid… under all these market conditions we truly believe investors are going to acquire gold. Owning the physical gold is the only way to see a major increase [in wealth]…

The United States has gone on for eight years consecutively… and they haven't gone anywhere. Everything that's going on in the world… they're not moving forward… they continue to print paper and the paper is worthless.

Gold is the only physical value we see out there. We also have a lot of silver. We also have a lot of copper… which are the byproducts that will pay for our gold production.

…You use what you need to sell to pay off all the bills, to pay off all the employees and keep the company moving forward…

But we would really like to look at banking some of this gold… keeping it physical and holding it for the long-term future. 

… We're going to be pouring bars on site… hopefully 20% to 30% of all production physically into gold bars on the project. 
MX Gold is the first mining company to announce such a revolutionary strategy and it completely makes sense considering that some of the world's largest investors are gobbling up everything they can get their hands on.
And while gold and silver are still shunned by the majority of the population and mainstream financial pundits, as Phillipe notes, this is not the case in China where lines out the door are a daily occurrence :
I have a close associate who just came back from China. He went to Beijing, Hong Kong and Singapore and he said that there are still people lined out the doors to get into these gold shops. 

Everything in China is physical gold.

They're selling gold bars… they're selling gold ornaments… everything in China is being sold and it's so busy… There is a lot of gold buying still going on.
And for good reason.
Whereas in the United States the former head of The Federal Reserve Ben Bernanke argues that gold is not money and is only held by some central banks as a matter of tradition, the Chinese government has been touting gold investing and stockpiling for several years.
They, of course, know what's coming.
In the United States, however, the government and media have actively conspired to convince Americans that there is nothing to worry about because, in President Obama's words, we've been saved from another Great Depression.
Click here to learn more about Akash Patel, Kenneth Phillippe and MX Gold's strategic plan for stockpiling physical gold. 
For more interviews like this one visit SGT Report.