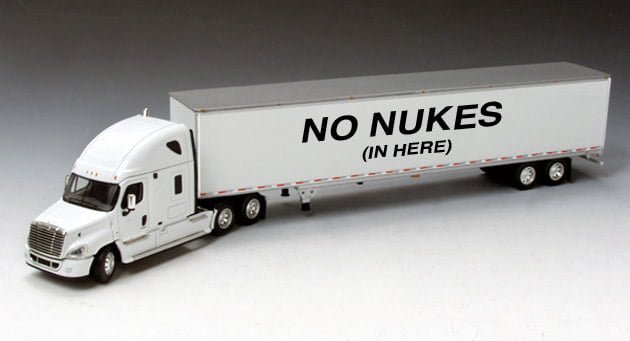 Amid a widespread global mobilization of troops and equipment, an investigative report from Infowars indicates that the United States military has begun secretly relocating part of its nuclear arsenal.
If accurate, the sparse details that are available indicate the weapons are in control of highly classified black ops units which, according to the military whistleblower who made this information available, suggests these devices are being moved because there is a plan to use them in the near future.
This is of particular interest not only due to the fact that the Syrian situation has escalated to the point of a very realistic hot war scenario, but due to the fact that Dyess has repeatedly denied the existence of nuclear warheads inside the base.

…

"Dyess is beginning to move out nuclear war heads today. I got a tap from DERMO earlier. He said it was the first time they have been even acknowledged since being put there in the 80′s. No signature was required for transfer… There was no directive. He said that Dyess Commander was on site to give authority to release. No one knew where they were going really, but the truck driver said to take them to South Carolina and another pick up will take them from there."

The fact that this transfer was not signed for and there were no papers is key. It shows how the military is now secretly operating with the transfer of nuclear weapons, and what's more, we know that DERMO (a military base in Florida) is a hotbed of special operations. Why is DERMO operating the nuclear warheads out of Dyess Air Force base with no paper trail? This shows that this is a highly secretive, black ops style move here that the military does not want on record.

The fact is that they don't move all of these assets unless they plan on using them. Nuclear warheads are not simply moved to the East Coast for no reason, and the bottom line is that these missiles are likely being used for something even much greater than Syria.
In 2010 the U.S. Navy moved hundreds of W76 nuclear war heads across the country for a "tune up" to update their aiming, firing and fusing systems, so transfers of nuclear stockpiles are not unprecedented. However, there was a clear chain of command and record transfer for the weapons at that time.
What makes this particular report alarming is that the warheads being relocated from Dyess are being moved with no directive, no paper trail, and no known destination.
This leak inside the military industrial complex comes after prior sources have also revealed to us that B-1′s and B-2 bombers were ordered to head out of their respective bases (B-1B's leaving Dyess specifically) across the nation and they haven't come back. All of this is happening amid the growing Syrian crisis that has developed amid the ignition of a WW3-level wrestling match between the United States and Russia.

Now, based on the transfer to South Carolina that is not on record and was not signed for, we may be looking at a pattern that reveals an extremely hot war scenario.
Is this another tune up, or is the U.S. government positioning these systems for future use abroad should the coming "limited" strikes on Syria evolve into a much wider confrontation involving Russia, Israel, Iran and even China?