This report was originally published by Michael Snyder at The Economic Collapse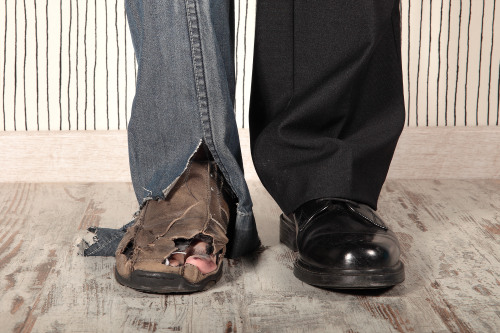 The middle class in America has been declining for decades, and we continue to get even more evidence of the catastrophic damage that has already been done. According to the Social Security Administration, the median yearly wage in the United States is just $30,533 at this point. That means 50 percent of all American workers make at least that much per year, but that also means that 50 percent of all American workers make that much or less per year.  When you divide $30,533 by 12, you get a median monthly wage of just over $2,500. But of course nobody can provide a middle class standard of living for a family of four for just $2,500 a month, and we will discuss this further below. So in most households at least two people are working, and in many cases multiple jobs are being taken on by a single individual in a desperate attempt to make ends meet. The American people are working harder than ever, and yet the middle class just continues to erode.
The deeper we dig into the numbers provided by the Social Security Administration, the more depressing they become. Here are just a few examples from their official website…
-34 percent of all American workers made less than $20,000 last year.
-48 percent of all American workers made less than $30,000 last year.
-59 percent of all American workers made less than $40,000 last year.
-68 percent of all American workers made less than $50,000 last year.
At this moment, the federal poverty level for a family of five is $29,420, and yet about half the workers in the entire country don't even make that much on a yearly basis.
So can someone please explain to me again why people are saying that the economy is "doing well"?
Many will point to how well the stock market has been doing, but the stock market has not been an accurate barometer for the overall economy in a very, very long time.
And the stock market has already fallen nearly 1,500 points since the beginning of the month. The bull market appears to be over and the bears are licking their chops.
No matter who has been in the White House, and no matter which political party has controlled Congress, the U.S. middle class has been systematically eviscerated year after year. Many that used to be thriving may still even call themselves "middle class", but that doesn't make it true.
You would think that someone making "the median income" in a country as wealthy as the United States would be doing quite well. But the truth is that $2,500 a month won't get you very far these days.
First of all, your family is going to need somewhere to live. Especially on the east and west coasts, it is really hard to find something habitable for under $1,000 a month in 2018. If you live in the middle of the country or in a rural area, housing prices are significantly cheaper. But for the vast majority of us, let's assume a minimum of $1,000 a month for housing costs.
Secondly, you will also need to pay your utility bills and other home-related expenses. These costs include power, water, phone, television, Internet, etc. I will be extremely conservative and estimate that this total will be about $300 a month.
Thirdly, each income earner will need a vehicle in order to get to work. In this example we will assume one income earner and a car payment of just $200 a month.
So now we are already up to $1,500 a month. The money is running out fast.
Next, insurance bills will have to be paid. Health insurance premiums have gotten ridiculously expensive in recent years, and many family plans are now well over $1,000 a month. But for this example let's assume a health insurance payment of just $450 a month and a car insurance payment of just $50 a month.
Of course your family will have to eat, and I don't know anyone that can feed a family of four for just $500 a month, but let's go with that number.
So now we have already spent the entire $2,500, and we don't have a single penny left over for anything else.
But wait, we didn't even account for taxes yet. When you deduct taxes, our fictional family of four is well into the red every month and will need plenty of government assistance.
This is life in America today, and it isn't pretty.
In his most recent article, Charles Hugh Smith estimated that an income of at least $106,000 is required to maintain a middle class lifestyle in America today. That estimate may be a bit high, but not by too much.
Yes, there is a very limited sliver of the population that has been doing well in recent years, but most of the country continues to barely scrape by from month to month. Out in California, Silicon Valley has generated quite a few millionaires, but the state also has the highest poverty in the entire nation. For every Silicon Valley millionaire, there are thousands upon thousands of poor people living in towns such as Huron, California…
Nearly 40 percent of Huron residents — and almost half of all children — live below the poverty line, according to the U.S. Census Bureau. That's more than double the statewide rate of 19 percent reported last month, which is the highest in the U.S. The national average is 12.3 percent.

"We're in the Appalachians of the West," Mayor Rey Leon said. "I don't think enough urgency is being taken to resolve a problem that has existed for way too long."

Multiple families and boarders pack rundown homes, only about a quarter of residents have high school diplomas and most lack adequate health care in an area plagued with diabetes and high asthma rates in one the nation's most polluted air basins.
One recent study found that the gap between the wealthy and the poor is the largest that it has been since the 1920s, and America's once thriving middle class is evaporating right in front of our eyes.
We could have made much different choices as a society, but we didn't, and now we are going to have a great price to pay for our foolishness…
***
About the author: Michael Snyder is a nationally syndicated writer, media personality and political activist. He is publisher of The Most Important News and the author of four books including The Beginning Of The End and Living A Life That Really Matters.
The Last Days Warrior Summit is the premier online event of 2018 for Christians, Conservatives and Patriots. It is a premium-members only international event that will empower and equip you with the knowledge and tools that you need as global events begin to escalate dramatically. The speaker list includes Michael Snyder, Mike Adams, Dave Daubenmire, Ray Gano, Dr. Daniel Daves, Gary Kah, Justus Knight, Doug Krieger, Lyn Leahz, Laura Maxwell and many more. Full summit access will begin on October 25th, and if you would like to register for this unprecedented event you can do so right here.