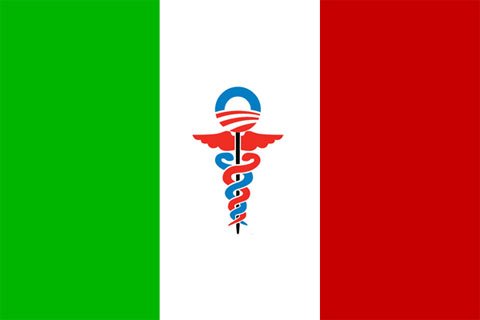 In our latest attempt to form a more perfect (North American) Union, Mexican President Felipe Calderon has an idea that should do wonders for job creation in the United States:
"Congress is not going to approve Medicare for Mexico until they're very comfortable that the quality of medical care is there," said Paul Crist, president of Americans for Medicare in Mexico. As a first step, he urged Mexico's federal government to carry through with plans to accredit the country's private hospitals by 2011.

President Felipe Calderón is expected to urge President Barack Obama to consider the issue of Medicare reimbursement in Mexico when the two meet in Washington next month. But Jeffrey Davidow, president of the Institute of the Americas, was doubtful there will be imminent changes.

…

U.S. health care reform is expected to expand the pool of workers with medical insurance, with 100,000 to 300,000 additional enrollees expected in San Diego and Imperial counties by 2014, said Frank Carrillo, chief executive of SIMNSA Health Plan, which sells group insurance plans to U.S. employers whose workers receive medical care in Mexico.

"The system cannot handle it here, so they need to look at Mexico as a safety net," Carrillo said, adding that many of the newly insured will be legal immigrants from Mexico who are comfortable with Mexican physicians.

[source: San Diego Union-Tribune]
We're all for allowing Mexico to compete in the free market in similar fashion to Canadians coming to the USA to acquire medical care. If a US citizen, who is covered under Obamacare wants to seek health care in Mexico then they should be able to do so – with their own money. Canadians seeking health care in the US are not covered under CanadaGovCare, and the same should apply for Americans going to Mexico.
Having the US government reimburse Mexican doctors, hospitals and government is ridiculous. For one, there are no quality controls in the care received as there are here in the US for those covered under GovCare programs. Secondly, there would be no way to prevent fraud in the system through the enforcement of US laws. In addition, thousands of American jobs would be lost in the process, as the US government essentially provides direct stimulus to the Mexican health care industry.
Ideally, the majority of GovCare programs should be eliminated in the US and the system should be completely privatized, but since that seems unlikely, then let's at least keep the system within the United States.
Here's a counter-proposal for Mr. Calderon:
How about you reimburse the US Government for the medical care we provide for illegal Mexican immigrants in the United States? American citizens and legal residents would have lower medical costs and insurance bills if we didn't have to cover the health care and schooling of illegal immigrants, who by the way, pay no income taxes because they work in the shadow employment market.
According to the US Census Bureau's official numbers, the US provided Mexico with $88 Million in foreign aid in 2007. We believe this official number to be skewed as the USAID organization makes it difficult to track exactly how much money we send abroad. Nonetheless, $88 Million is a lot of money. If the Mexican government refuses to close their borders, then the US should deduct all GovCare and GovSchooling costs for illegal Mexican immigrants from whatever foreign aid package is to be sent to Mexico for that year.
Why should American citizens be required to not only send aid to Mexico, but also cover medical, schooling and other GovAssistance costs?
To President Calderon we say, thanks but no thanks on GovCare reimbursement for Mexican doctors, but since we are on the subject of reimbursement, we'd be more than happy if the people of Mexico paid their fair share for those of their citizens who choose to seek free health care here in the USA on the backs of working Americans.