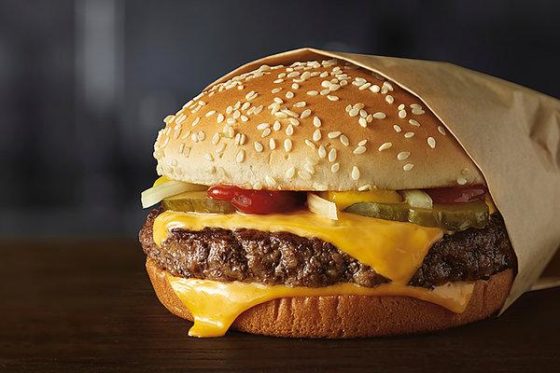 In a quest to keep up with the ever-changing times and research on healthy eating, McDonald's has decided to remove all artificial additives from their burgers.  The fast-food company, which hopes to attract more health-conscious consumers to its drive-thrus and counters, announced changes to its most popular hamburgers Wednesday.
According to CNN, McDonalds' seven classic burgers — the hamburger, cheeseburger, double cheeseburger, McDouble, Quarter Pounder with Cheese, Double Quarter Pounder with Cheese and Big Mac — will no longer include artificial preservatives, flavors or coloring.  This change will apply to all parts of the burger, from the buns to the cheese, to the meat, and sauce.
So far, McDonald's has specified that it has stripped components like calcium propionate, an artificial preservative, from its buns and eliminated sorbic acid, a preservative, from its American cheese. The iconic Big Mac Special Sauce is also being reformulated to remove any artificial ingredients. McDonald's said it's removing the artificial preservatives including potassium sorbate, sodium benzoate, and calcium disodium EDTA without "sacrificing that signature taste."
"This development demonstrates our commitment to leading with the customer and building a better McDonald's," said McDonald's US president Chris Kempczinski in a statement. It appears that McDonald's is attempting to keep pace with other fast food restaurants taking the same path. Companies like Taco Bell, Subway and Panera Bread have all recently moved to a more natural food product by removing the artificial ingredients from their menus.
Earlier this year, the company jumped on the "healthy" bandwagon and replaced their frozen beef with fresh beef in its Quarter Pounders and re-engineered the infamous Happy Meal offerings with healthier options, such as milk. This trend shows that some Americans seem to be wising up to the devastating these chemicals and preservatives can do to the human body.
But that pickle on your McDonald's burger? That will still contain an artificial preservative.