This article was originally published by Doug "Uncola" Lynn at TheTollOnline.com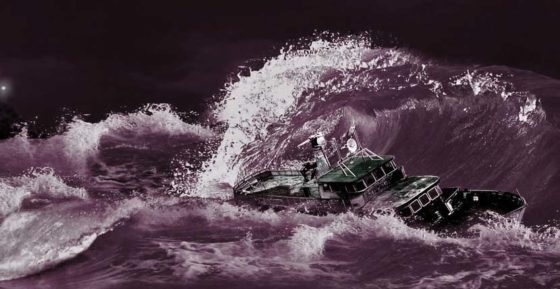 As we travel the stormy seas on the way to our forthcoming destination, thirteen revelations from April, 2018 are now randomly recorded by this mate as follows:
1.) According to a April 22-24, 2018 Fox News poll of 1,014 randomly chosen registered voters nationwide:  Two-thirds said it is at least "somewhat important" that Mueller's Russia investigation continues, and "56 percent think it's likely the special council's probe will find that Donald Trump committed criminal or impeachable offenses".
2.)  A recent Quinnipiac poll found that 70% of Democratic voters would like to see impeachment hearings begin if Democrats regain control of the House and Senate.
3.) At a rally in Washington Township, Michigan on Saturday, April 28th, Trump claimed Republicans will retain the House and Senate in the 2018 midterm elections because of the economy:
'Jobs are booming and confidence is soaring. All over the world, they're talking about this success,' the president crowed.

Since Trump took office, the U.S. economy has added 2.7 million jobs — an average of 181,000 per month — while growth was fastest in counties that gave Trump the most votes, according to a Washington Post analysis of U.S. Labor Department data.
 4.) According to Kiplinger:  Interest rates will continue rising due to "government deficits and an expanding economy with slightly higher inflation". This means, although the Fed raised rates only once during Obama's presidency, they have raised rates five times so far since Trump's election and with two more increases anticipated in June and December of 2018; plus three to four more hikes expected in 2019. If all those occur, then rates will be raised 10-11 times in the 38 months between Trump's 2016 election win and the start of 2020.
5.) At an engagement over the weekend attended by my family and friends –  I spoke with several Republican voters and NOT ONE had heard of the April 2018 criminal referrals by Congress to the Justice Department and FBI. In fact, when I informed them of the referrals which included James Comey, Hillary Clinton, Andrew McCabe, and others, most thought I was joking; while one politically conservative relative simply told me he was sick of Trump's twittering.
6.) On April 12, 2018 – James Mattis, the US Secretary of Defense, admitted there was no evidence of the recent chemical attack in Syria; and the lack of proof was also reported to have been confirmed by the Organization for the Prohibition of Chemical Weapons (OPCW) last week. It looks like Trump may have bombed Syria for nothing, but it's okay because Americans don't really care.
7.) At Saturday's debauched, even x-rated, White House Correspondents' Association dinner –  hatred, misogyny, and hypocrisy were celebrated even though some CNN reporters in attendance later said it was uncomfortable, cringeworthy, and harsh. Of course, no one expressed outrage DURING comedian Michelle Wolf's disastrously devious and disrespectful diatribe. Not even one heckler. Not one.
8.) The Political Left is comprised of bona fide racists who, last week, called rap star, Kanye West, and conservative commenter, Candace Owens, "Uncle Tom, Coon, Uncle Ruckus, and other insults". Moreover, it is now in vogue for comedians like Stephen Colbert to broadcast fried chicken and crazy negro jokes.
9.) In April, the U.S. Department of Justice continued to cover-up the corruption of the same intelligence agencies that Senator Chuck Schumer once claimed had "six ways from Sunday" at "getting back" at Trump. The collusion of the intelligence agencies against a constitutionally elected president is now a matter of public record and the legal double standards have been exposed for all to see. It appears the Justice Department's latest strategies are to stall, or comprehensively redact, the release of documents and to ignore deadlines imposed by Congress in the hopes of a Blue Wave this fall carrying, and burying, all of their dirt back into the swamp.
10.) The unprecedented and disgraceful April 9, 2018 raid  of a lawyer currently representing the sitting President of the United States, proves that both the constitution, and attorney client privilege, are now dead in America. It is, perhaps, fitting the raid was the result of a referral from Robert Mueller's likely illegal special counsel investigation.
11.) Trump's allies are drowning in legal fees, his pick to lead Veteran's affairs was forced to withdraw from the nomination process, and his immigration policies remain overturned by federal judges.
12.) The head coordinator for an illegal migrant caravan that is now attempting to invade the U.S. southern border, is originally from Mexico and remains a permanent resident of Minnesota. If the caravan was legitimately seeking political asylum, they would have remained safe within Mexico's borders; yet they all kept marching north. That means any claims of asylum were always a farce and, although Attorney General Jeff Sessions has called the caravan "a deliberate attempt to undermine our laws and overwhelm our system", none of its organizers here in America appear to be in any legal jeopardy at this time.
13.) Congressman Mo Brooks (R-AL) has recently stated that many of the Republicans who have announced their retirement from Congress in 2018, did so for fear of being assassinated by crazed, gun-toting leftists.
Indeed. Transitions are markers to what will pass as our voyage traverses the ocean of time from history to revelations unknown. So stay awake, keep your eyes on the horizon, your hands steady at the helm, and, look for true north to guide some, but not all. Most importantly, keep your life preservers near and dear.
Up and down, round and round it goes; how it ends, we just don't know. Either the storm will pass or the ship will sink. All aboard and bottoms up. Anchors away.
It's May.