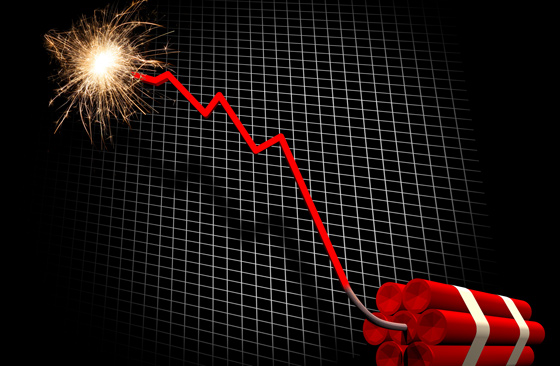 Thanks to lingering anxiety about the ongoing trade war and rhetoric between the United States and China, futures indicated that the Dow would open over 400 points lower this morning. Couple that with the expectation that the sell-off will continue, the economic recession could very well be in the beginning stages.
According to Reuters, the S&P500 e-mini futures fell almost 2 percent at one point overnight and CME Group's Chicago Mercantile Exchange had to implement a series of 10-second trading halts that helped limit the initial drop. In its sixth consecutive day of declines, the S&P closed down 2.1 percent after shedding 3 percent in Wednesday's session. But at its session low, the benchmark fell 2.7 percent to its lowest level since early July
Thursday's volatile session will also see investors worried about rising interest rates a day ahead of the quarterly reporting season kickoff. On Tuesday, the Dow Jones Industrial Average shed nearly 800 points in its largest decline since October 10, according to CNBC.  The markets were closed yesterday, making expectations even grimmer.
"People fear that it will be harder to snap back if we're seeing a cyclical top in earnings with those two headwinds, which are not going away," said Michael O'Rourke, chief market strategist at JonesTrading in Greenwich, Connecticut.
"We saw a rally this morning, and that ended up being a suckers' rally. Then you had buy-the-dippers coming in here saying this was too much too fast," said Dennis Dick, proprietary trader at Bright Trading Llc In Las Vegas. "Are we out of the woods here? I don't think so," he said. "You're going to see a lot of volatility in the next week or so."
Investors fear over a trade war, and the government's inability to come to any conclusion is taking the brunt of the blame for the sell-off. Over the weekend, United States President Donald Trump met with Chinese President Xi Jinping to discuss ongoing trade quarrels between their two countries. While the White House has said it has worked out a cease-fire with Beijing, discrepancies in messaging haven't assuaged market fears of uncertainty.
"Unfortunately until we get new news the market continues to be a cauldron of concerns causing caution with investors," said Art Hogan, B. Riley FBR's chief market strategist. "With the combination of he said Xi said on China trade, a fear of an economic slowdown in 2019, and the slow trickle of Mueller investigation reports coming out, it is not at all surprising to see a buyer's strike in the after hours market."