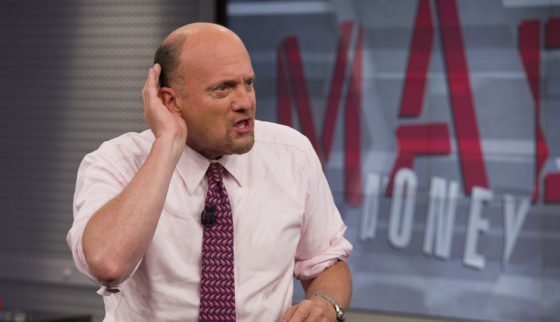 The host of CNBC's Mad money, Jim Cramer has a dire analysis of what's going on in the stock market.  Cramer said that the market is enduring a "very serious correction," and "there's nowhere to hide" from the situation poised to go from bad to worse.
Cramer said there have been very notable slumps in the "FANG" (Facebook, Amazon, Netflix, and Google) stocks and that could be the signal that things are about to implode in the markets.  According to Market Watch, all of the aforementioned stocks are down, which is bad, considering they are among the most influential on Wall Street due to their massive market values and the degree by which investors have piled into those investments for a hope of consistent growth. Additionally, all of those companies are in a "corrective phase," which is defined as a drop of at least 10% from a recent peak. Netflix and Facebook shares have lost about a third of their values since hitting 52-week peaks.
Cramer has aligned himself with President Donald Trump, saying that the economy is solid and has championed the idea of the Federal Reserve's pausing, or at least slowing down, its interest-rate-raising initiative to assess current market conditions. Cramer has also criticized Federal Reserve boss Jerome Powell's plan to normalize interest-rate policy from crisis-era lows. The central bank is slated to raise interest rates yet again in December, marking the fourth time it's done so in 2018.
Cramer added that there isn't really an identifiable safe haven for investors either. An environment of rising rates and wobbles elsewhere in global stock markets have made identifying havens difficult, with expectations that rate increases will drive bond yields higher and prices lower. There's nowhere to hide from the eventual and brutal market correction coming, Cramer said.
https://www.shtfplan.com/headline-news/peter-schiff-the-rising-interest-rates-will-collapse-the-stock-market_10302018
It's been a brutal few weeks for the stock market, and if analysts are correct, not only is the economy not as strong as we are being told that is, but it's hanging on by a thread that could break anytime. It's just impossible to know which straw will break the economic camel's back.