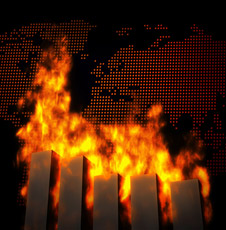 Greg Mannarino of TradersChoice.net has been keeping a close eye on stock and bond markets. He has been accurately predicting major turning points in these markets for years.
While everyone in the mainstream appears to know that something is seriously amiss with the economy, no one is warning the retail investor, despite the fact that billions of dollars are being shifted out of broader markets and into safe haven assets like gold and silver.
Unless some miracle happens, the next large move for this market is down…

Their bottom line… a lot of these companies are coming in below the mark… but the market is still in this topping phase… the fear/greed index remains at an extreme, so we should not be surprised to see this…

…

The real tell here will be moving into the next week or two… in the next week or two we should see a significant move… or at least the beginning of a significant move to the downside in this market.
Mannarino has previously warned that should the world's massive debt bubble burst, it could literally lead to the deaths of millions of people worldwide as the system cleanses itself.
Visit Greg Mannarino's Traders Choice website and follow his Youtube channel.
Related:
Prepare For Economic Collapse: A Step-By-Step Guide
Analyst: "Millions Upon Millions of People Are Going to Die on a World-Wide Scale When the Debt Bubble Bursts"
Fed Can't Save Stocks from Verge of Collapse: 'Huge Disaster Waiting to Happen'
Proof It Is Rigged: "Fed Moved 93% of Entire Stock Market Since 2008"