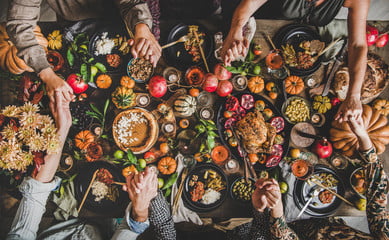 When we are all supposed to be gathered together giving thanks for the things we have, some leftists in America can't help but try to diminish gratitude and sour the meaning of the holiday. Thanksgiving may mean many different things to many different people, and if you're one who doesn't want to celebrate it, can't you just leave everyone else alone?
Mark Dice doesn't think so.  Liberal newspapers and celebrities have made their complaints about Thanksgiving abundantly clear, even yesterday when we were supposed to be grateful for what we have.
Some of the liberals Dice talks about in this video also want you to consider eating bugs instead of turkey.  Because of climate change of course!
But if you want a little humor today, on Black Friday, listen to 3:17 when president Donald Trump pardons two turkeys named "Bread" and "Butter." Trump said the turkeys were raised to remain calm, which is good because they have been subpoenaed to testify in Adam Schiff's basement.
Mark Dice's YouTube channel can be found by clicking here.
Mark Dice is the author of The Liberal Media Industrial Complex
. The "media" used to mean television, radio, newspapers, and magazines; but today it largely involves social media, which has swallowed up all of these other forms and is now controlled by a small group of Silicon Valley titans who decide what billions of people are able to see and hear online.
The convergence of old technology and new has centralized unimaginable power into the hands of a few gigantic corporations that now dictate how we communicate with each other and perceive the outside world.
Mark Dice also wrote The True Story of Fake News: How Mainstream Media Manipulates Millions
.
*This article contains affiliate links.