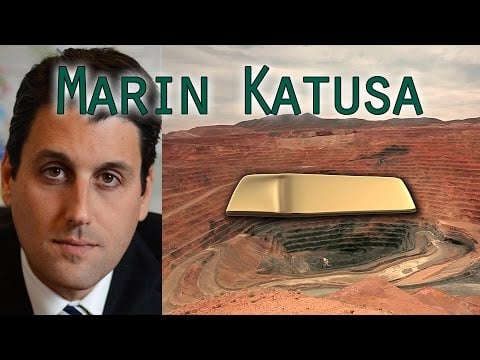 In a recent interview, Marin Katusa joined SGTReport to discuss the real danger to America's supply chains.  He said that our entry independence is under threat from"hostile nations." Katusa also discussed nuclear energy, uranium, oil, and gold. 
America's energy independence has "unwound" during the government's extreme overreaction to the coronavirus which caused mass panic among the public. Katusa said this problem all comes down to supply chains.
Prepping For The Upcoming Government-Induced Food Shortages
"The success of the U.S. oil renaissance was solely based off two things: innovation in fracking and access to relatively cheap money historically speaking."
Basically, other countries have used American innovation in order to turn production in the U.S. upside down. Because production is essentially nothing in the U.S., imports are now mandatory, and there is energy dependence on these other countries. The U.S. imports 100% of the uranium it consumers, which is "an absolute risk," says Katusa.
The U.S. is going to have to produce uranium, however, it has to be competitive. "The government can't be seen as propping up what I call 'welfare mining companies.'" The U.S. has to find a way to be competitive on a global scale and use innovation to do so.
Marin Katusa: Globalist Supply Chains Are BROKEN, The Coming War On Gold
Katusa says to never underestimate American innovation. Katusa also says that Russian has "weaponized" it's energy resources in his book, the Colder War.  This was done, ultimately, to gain power. So should we be concerned? In short, yes.
"People would be shocked to realize that one in every five homes in America are powered by nuclear energy. Globally speaking, it's one in every ten homes. Nuclear power's about 10% of the global electricity-based load power. Everyone's focused on the 'green dream' and, look, I personally benefited from- I financed the largest geothermal project in America in the last 30 years. So, I'm about making money. And I look at these aspects that are so misunderstood and one in every ten homes in America about one in every eight right now by Russian nuclear fuel.

The Russians have a very lon-term perspective here…what better way of levereage over an emerging market than the power grid? Right? You want socila upheaval, turn off the power grid. "
But there's something else Katusa wants everyone to understand:
"There's this misconception in the market right now that I want everyone to understand, that they think "oh, we're gonna get fast-tracked because America needs uranium. That's not gonna happen. Uranium is the hardest commodity to permit."
Meaning the U.S. government is standing directly in the way of the U.S.'s energy independence.

[DISPLAY_ULTIMATE_SOCIAL_ICONS]